"Even with virtual programs, I felt like The GREEN Program helped me understand international issues at a local, personal level. The instructors were incredible resources and it was an incredibly in-depth experience, even virtually!" – Courtney Dragiff
Antioch University New England 2021, International Sustainable Development & Climate Change
Courtney is a graduate of the International Sustainable Development & Climate Change Master's Program at Antioch University New England – a program that the University runs in partnership with The GREEN Program. Through her graduate program, Courtney was able to participate in TGP's virtual Nepal, Iceland and Peru Program's. Despite all of her classes being virtual due to Covid, Courtney says "the coursework was incredibly interesting and engaging."
Of the three TGP programs she took part in, Courtney explains she is most proud of her Peru Capstone Project. "My team found an inexpensive, easily buildable water filter design that could be built for $5 per household, or scaled up for community sources," she explains, "It would use local sand, stone and supplies to create both a mechanical and bio-filter for water." Additionally, Courtney adds that her Capstone group "included longer term riparian restoration to purify water at the source, and included educational efforts about garbage collection and water safety."
Courtney found the most success in her TGP courses when she focused on "easy-to-implement solutions that support larger SDG's and international goals."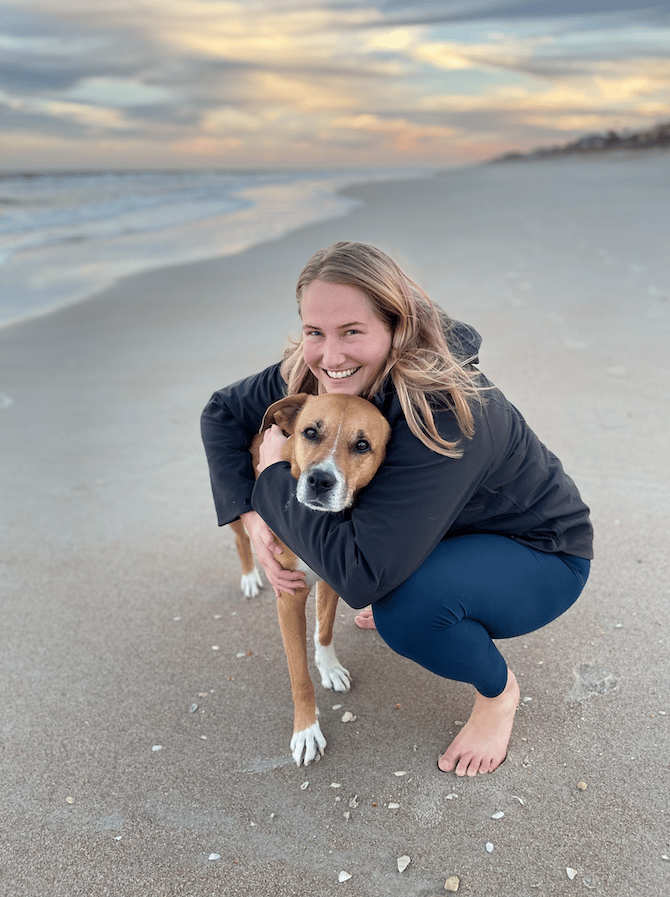 "Thanks to TGP, I have far more knowledge about diverse suppliers, such as textile manufacturers in Nepal, and I've been able to offer educated feedback on proposed plans to expand diversity efforts."
Since graduating, Courtney has started consulting with a company that focuses on sustainability efforts within grocery stores. Courtney says her TGP experience shifted her focus in the sustainability world, stating "My background was in land conservation, and since TGP I've moved towards consulting and educating companies on how they can both cut costs and reduce their environmental impacts." Courtney's sustainability efforts don't stop when she clocks out at work; she volunteers her free time to a Tree Canopy Task Force in her city to reduce the urban heat island effect.
In addition to her passion for sustainability, Courtney really loves dogs and has been training them since she was 8 years old!
Courtney's tip for new alumni:
I have gotten every job offer in my life from networking with people – not a single one came from just submitting an application. Even a friend of a friend might know of opportunities in your field – don't be afraid to ask!
Connect with Courtney on Instagram: @cocobean126
Learn more abut the Antioch University New England Master's Program that Courtney participated in HERE.
*Our team here at TGP loves to stay connected with our alumni and share their post-program stories! Do you want to be featured in our Alumni Spotlight series? Email Briar at [email protected] to find out how!