Written by Briar Bones
The spookiest holiday of the year is fast approaching – with the scent of pumpkin-pie in the air and hayrides just around the corner, you can't help but be excited! But this year, as the seasons change, why not also change up your own habits to help out Mother Nature?
An estimated 1 billion pounds of pumpkin alone ends up in landfills at the end of the Halloween season. Additionally, a study done in 2019 by UK Environmentalist group Hubbub found that "some 83% of halloween materials were oil-based plastics likely to end up in landfills". With the average American expected to spend more than $65 on decorations and costumes this year, that makes for quite a substantial volume of single-use themed items that are being repurchased and thrown away instead of reused.
So how can we shoot to make this Halloween a little more GREEN instead of orange and black? Read on to find out!
Sustainable Halloween Costumes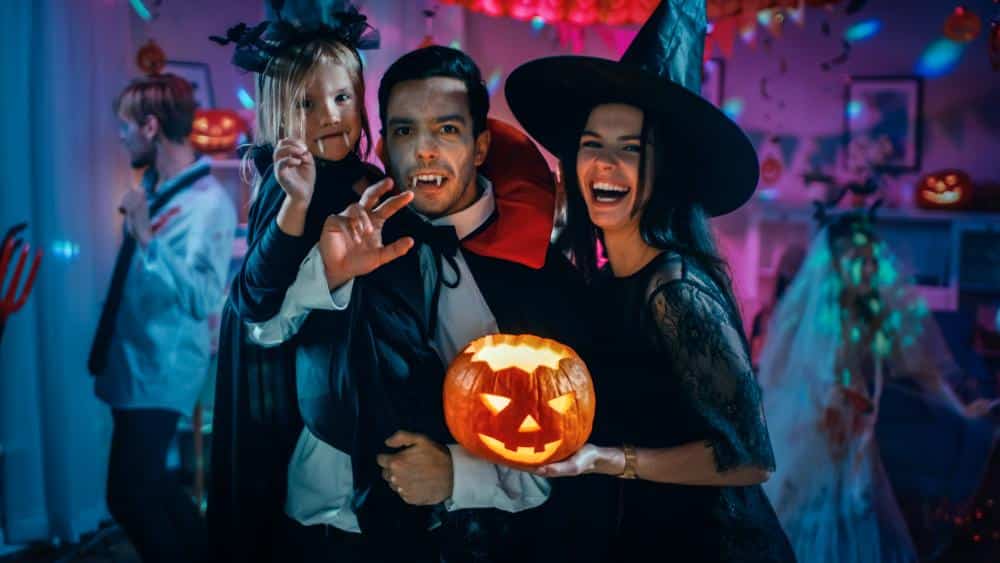 Picking out a costume is one of the most exciting parts of the Halloween season! However, since we only use costumes once a year, often not even reusing them from one October to the next, it is also one of the more wasteful ways of celebrating. Luckily there are many ways to cut down on the waste and use what you have to put together a spooky or fun costume!
What is the most sustainable costume? The costume you already have! A really effective costume can come together with just a few key pieces. Have a striped shirt and black pants? You've got yourself a mime or Beetlejuice costume! Dress in all black, draw on some whiskers and now you just need to DIY some ears to be a cat!
Consider using pieces from old Halloween costumes to create new ones or ask friends & families if they have items you can borrow to complete your look!
If you find yourself still missing some accessories that would take your costume to the next level, thrifting is your next best option! Thrift stores, consignment stores and yard sales are a great alternative to buying brand new. Find some more costume ideas below!
Got some leftover cardboard boxes, acrylic paint and elastic? Check out this DIY Butterfly Costume!
If you have an orange shirt or dress and some black felt, make a Jack-O-Lantern Costume!
If you have a white button up blouse and a black skirt, you are just a few steps away from a Mary Poppins Costume!
Get Creative with Eco-Friendly Decorations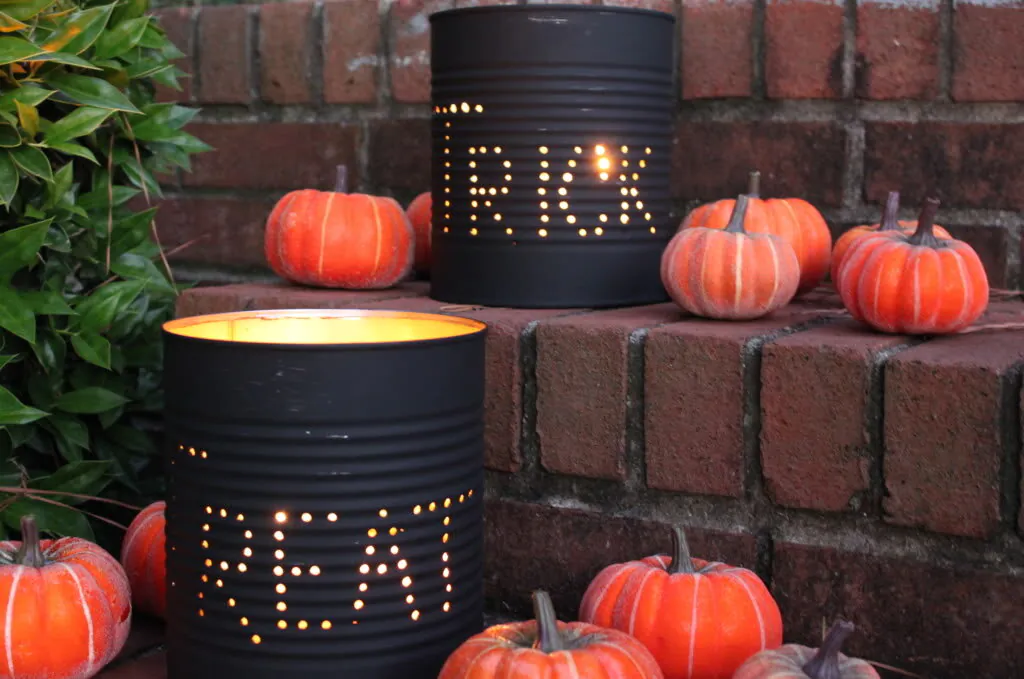 Alongside costumes, decorations are right up there as the most wasteful part of Halloween festivities. Most of the decor is plastic and is not built to last more than one season, so we have provided some alternatives for you to consider.
Use natural decor like gourds, pumpkins, corn stalks and mums to decorate your home. They liven up the space, can usually be found at the grocery store and when disposed of properly, don't create the waste that commercially produced decorations do! (At the end of the season, take your pumpkins and gourds to local farms for the animals to munch on!)
Get creative and use recycled items like soups cans (as seen in the photo above) to create luminaries for your outdoor steps.
DIY garlands from paper and string you have lying about your house to say "Happy Halloween" or "Trick or Treat!"
If you have an old, white bed sheet that isn't getting much use anymore, repurpose it to create a flying ghost! Stuff the top portion with newspaper to create the head of the ghost and tie it off. Finish it off by making the face with black marker or non-toxic paint and hang it up on a tree branch or your porch!
None of these getting you in the spooky spirit? We recommend checking out Pinterest – there are endless DIY ideas for Halloween Decor that are also Eco-friendly!
Pumpkin Carving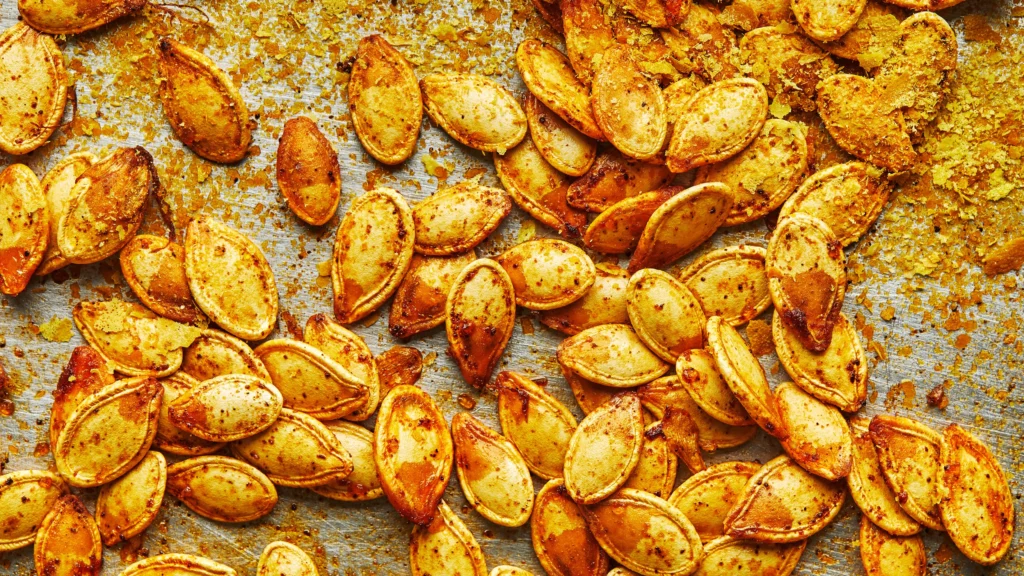 Pumpkin carving is a staple activity for the month of October but it can be wasteful if not done properly. The first step is to use every part of the pumpkin that you can. When carving your pumpkins, make sure to save all of those pumpkin seeds and roast them up for a nutritious snack – find a recipe we like here!
Once October has come to an end, you have a few options for disposing of your pumpkin. Either put your pumpkin in the compost bin if you have that available to you, or take your beautifully carved pumpkin to a local farm – animals love to eat pumpkin and it's good for them too! This is a great step to take to avoid the pumpkins ending up in our landfills where they will rot and put methane into the atmosphere.
Recycling Candy Wrappers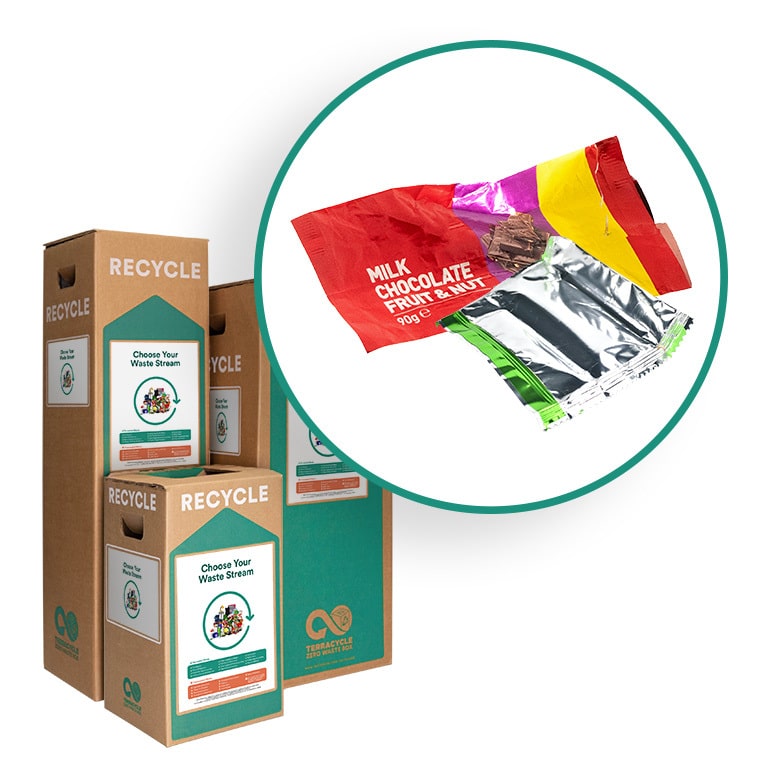 While it is difficult to take a more sustainable route to safely give out candy for Halloween, TerraCycle offers an amazing service that handles the recycling of all different kinds of candy wrappers that would normally be rejected by traditional recycling services.
All you have to do is a pick a small, medium or large box, fill it with your candy wrappers, and ship it off to TerraCycle for them to sort and recycle. Find out more information here!
To all those celebrating, stay safe and keep the environment in mind this year – Happy Halloween!
For ideas or collaboration, please reach out to our team at [email protected].