Written by Andrea Smith
"The secret of change is to focus all of your energy not on fighting the old, but on building the new." –Socrates
Whether it's an Earth Day Festival or a Community Clean Up, TGP challenges you to get outside and take action in your local community this Earth Day 2022 and #InvestInOurPlanet
Here at The GREEN Program, our mission is to educate and empower future sustainability leaders through experiential education, responsible travel, and adventure. But none of that matters without the big, beautiful, blue and green planet herself. The time has come to put action to words in building a more sustainable future. This Earth Day 2022, our team at TGP will be taking action in our celebration of the planet and we want to encourage our global community to do the same. Whether it's by attending a local festivity, participating in a clean up effort, or by donating to an environmental cause, we want you to help us Invest in Our Planet this Earth Day.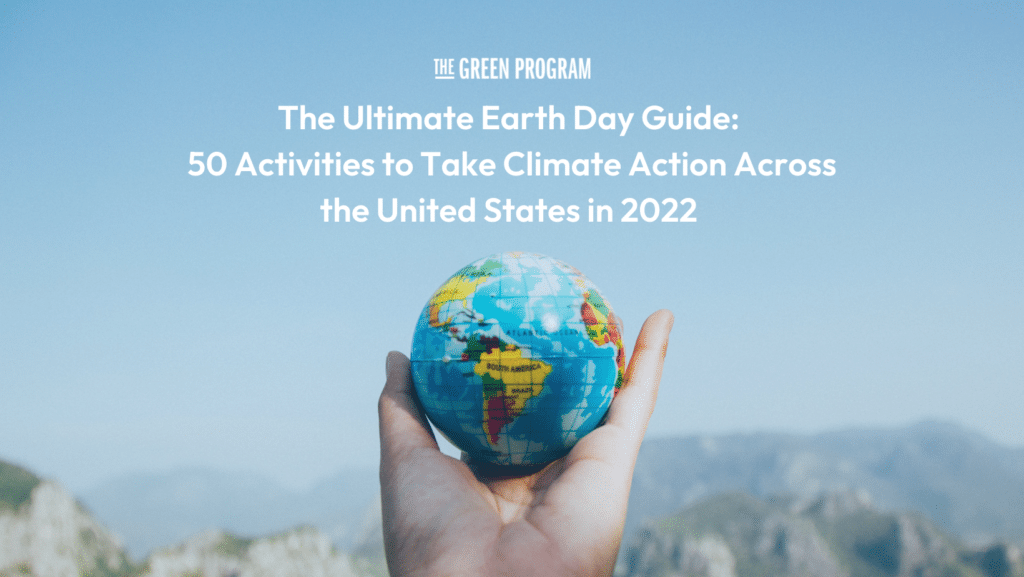 We created your go-to guide below for local events in each major city across the United States happening this Earth Day throughout the whole month of April. Check it out and find an upcoming event in your area! Be sure to review the Earth Day Action Toolkit while you're out and about! Or, if you're more comfortable taking action from inside, consider making a donation to your favorite sustainable organization like The Canopy Project and help plant trees across the globe.
Wherever you find yourself celebrating Earth Day this year, be sure to let us know by tagging us on Instagram (@greenprogram) and using #InvestInOurPlanet. We can't wait to see how you take action this Earth Day, GREENies!
Invest in YOURSELF, Invest in your FUTURE, and above all, Invest in our PLANET.
-The GREEN Program Team


| | | | | |
| --- | --- | --- | --- | --- |
| City, State | Event Name | Event Date | Time | Cost |
| Birmingham, AL | Earth Day at the Gardens | 4/23/22 | 10 AM to 2 PM | Free |
| Anchorage, AK | Earth Day Community Plant Swap | 4/22/22 | 2:30 PM to 5 PM | $5 |
| Sedona, AZ | Earth Day Celebration at Red Rock State Park | 4/24/22 | 10 AM to 2 PM | $4 |
| Fountain Hills, AZ | ReCycle ReCreate Earth Day Celebration | 4/22/22 | 5 PM to 7 PM | Free |
| Fayetteville, AR | Earth Day Festival | 4/24/22 | 1 PM to 5 PM | $10 |
| San Francisco, CA | Earth Day San Francisco | 4/23/22 | 11 AM to 7 PM | Free |
| San Diego, CA | EarthFair 2022 | 4/24/22 | 10 AM to 5 PM | Free |
| Longmont, CO | Earth Day Celebration | 4/23/22 | 10 AM to 3 PM | Free |
| Hamden, CT | Hamden Earthday | 4/23/22 | 10 AM to 3 PM | Free |
| Dover, DE | Drive Electric Earth Day | 4/23/22 | 4 PM to 7 PM | Free |
| Miami, FL | Miami Beach Clean Up | 4/23/22 | 9 AM to 12 PM | Free |
| Orlando, FL | Central Florida Earth Day | 4/23/22 | 10 AM to 6 PM | Free |
| Atlanta, GA | Earth Day | 4/22/22 | 10 AM to 12 PM | Free |
| Honolulu, HI | Earth Day 5K | 4/23/22 | 9 AM to 12 PM | $16 |
| Driggs, ID | Teton Valley Earth Day Celebration | 4/22/22 | 4 PM to 7 PM | Free |
| Springfield, IL | Earth Awareness Fair | 4/23/22 | 11 AM to 4 PM | Free |
| Indianapolis, IN | Earth Day Indiana Festival | 6/4/22 | 11 AM to 5 PM | Free |
| Clear Lake, IA | OutdoorFest | 4/21/22 – 4/23/22 | 9 AM to 7 PM | Free |
| Gardner, KS | Earth Day & Arbor Day Celebration | 4/23/22 | 10 AM to 12 PM | Free |
| Louisville, KY | Party for the Planet | 4/24/22 | 10 AM to 5 PM | $8.25 |
| New Orleans, LA | The Recycle Challenge | 4/22/22 – 4/23/22 | 9 AM to 5 PM | $10 |
| Freeport, ME | Green ME Up | 4/16/22 | 10 AM to 3 PM | Free |
| Windsor Mill, MD | Earth Day Celebration | 4/23/22 | 10 AM to 1 PM | Free |
| Framingham, MA | Framingham Earth Day Festival | 4/23/22 | 11 AM to 3 PM | Free |
| Royal Oak, MI | Climate March, Rally, and Fair | 4/23/22 | 10 AM to 1 PM | Free |
| Minneapolis, MN | Celebrate Earth Day | 4/22/22 | 4 PM to 6 PM | Free |
| Summit, MS | 2022 Earth Day Fest | 4/23/22 | 9 AM to 3 PM | Free |
| Columbia, MO | Columbia Area Earth Day Festival | 4/24/22 | 12 PM to 7 PM | Free |
| Missoula, MT | Invest in Our Planet | 4/23/22 | 2 PM to 6 PM | Free |
| Omaha, NE | Earth Day Omaha | 4/23/22 | 11 AM to 6 PM | Free |
| Las Vegas, NV | Earth Day Festival and Plant Sale | 4/23/22 | 10 AM to 4 PM | $10 |
| Auburn, NH | Earth Day Celebration | 4/23/22 | 10 AM to 4 PM | $10-15 |
| Egg Harbor Township, NJ | ACUA Earth Day | 4/24/22 | 10 AM to 4 PM | Free |
| Taos, NM | Earth Day Festival | 4/22/22 – 4/23/22 | 10 AM to 7 PM | Free |
| New York City, NY | Earth Day Festival | 4/21/22 | 12 PM to 7 PM | Free |
| Raleigh, NC | Earth Day 2022 | 4/22/22 | 6 PM to 10 PM | Free |
| Bismarck, ND | Earth Day Festival | 4/26/22 | 4 PM to 7 PM | Free |
| Columbus, OH | Earth Day Columbus | 4/23/22 | 12 PM to 7 PM | Free |
| Norman, OK | Earth Day Festival | 4/24/22 | 12 PM to 5 PM | Free |
| Bend, OR | Earth Day Fair & Parade | 4/23/22 | 9 AM to 12 PM | Free |
| Haverford, PA | Earth Day Celebration | 4/23/22 | TBD | TBD |
| Philadelphia, PA | Office of Sustainability's Earth Day Event | 4/22/22 | 5 PM to 7 PM | Free |
| Wayne, PA | Park Stewardship for Earth Day | 4/23/22 | 9 AM to 10:30 AM | Free |
| Newport County, RI | Aquidneck Island Earth Week | 4/16/22 -4/26/22 | Multiple Times | Free |
| Sumter, SC | Earth Day Celebration | 4/23/22 | 7:30 AM to 12 PM | Free |
| Pierre, SD | Good Earth Day | 4/23/22 | 2 PM to 4 PM | Free |
| Nashville, TN | Nashville Earth Day | 4/23/22 | 11 AM to 6 PM | Free |
| Oak Cliff, TX | Oak Cliff Earth Day | 4/3/22 | 12 PM to 5 PM | Free |
| Austin, TX | Earth Day Austin | 4/23/22 | 12 PM to 6 PM | Free |
| Alta, UT | Alta Earth Day 2022 | 4/16/22 | 9 AM to 3 PM | Free |
| Quechee, VT | VINS Earth Day Celebration | 4/23/22 | 10 AM to 5 PM | $17.50 |
| Alexandria, VA | Alexandria Earth Month Celebration | Month of April | Multiple Times | Varies by event |
| Edmonds, WA | Earth Day Marina Beach Park Clean Up | 4/23/22 | 10 AM to 12 PM | Free |
| Morgantown, WV | Earth Day Celebration | 4/22/22 | 11 AM to 3 PM | Free |
| Madison, WI | Earth Day Challenge | 4/23/22 | 10 AM to 12 PM | Free |
| Casper, WY | Earth Day | 4/22/22 | 9:30 AM to 4 PM | Free |