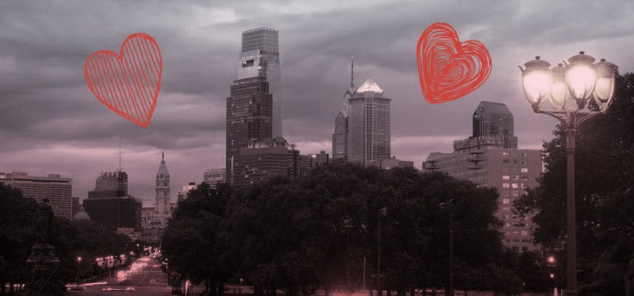 Why do we love the City of Brotherly Love? Is it hitting up your favorite cheese steak spot to get your "wiz with" fix? Is it the rambunctious experience of attending a sporting event? What about the endless array of multicultural history covering everything from the Founding Fathers to extreme medical oddities?
Well… yes, of course!
But beyond the food trucks, devoted sports fans, and rich historical framework of the city, Philadelphia is an urban community of celebrated entrepreneurship & up-and-coming young leaders, forward-thinking innovative initiatives, and home to nearly 100 universities in the Greater Philadelphia area.
Philadelphians back their city. Hard. But hey, The New York Times understands! While the piece ranked Philly as #3 of 52 cities to visit in 2015, we know the City of Brotherly love is really #1.
Basically: Philly rules.
After The GREEN Program team had realized that we had outgrown our NJ-roots, reestablishing HQ was on the books. However, because GREEN wanted to maintain our close relationship with Rutgers University, we thought about moving to New York City, San Francisco, Boston, and even Boulder, CO.
Each of these cities offered professional growth opportunities through expanding entrepreneurship, sustainability-focused platforms, and were central to a group of colleges and universities. However, there was still something missing: the "it" factor. And let's be honest, winters in Boston and Colorado would be un-brrrr-able.
"THE GREENEST CITY IN AMERICA"
Mayor Michael Nutter has made it a goal of Philadelphia to become "The Greenest City in America" through the 2009 Greenworks plan.
The 2014 Greenworks Progress Report states that work on 160 of the 164 initiatives are in progress or are complete.
As an experiential education & career-focused abroad program provider specializing in concentrations of sustainability and world issues, we're eager to be a part of Philadelphia's legislative push to take on this challenge, too.
GENERATION Y LEADERSHIP & ENTREPRENEURSHIP
Philly is home to countless citizens who believe in the prosperity of the city. Whether it's creating positive social change, breaking legislative boundaries, or fostering creative and artistic initiatives, Philly promotes the up-and-coming leaders of the next generation. Organizations including CampusPhilly, Impact Hub Philly, and Sustainability Nexus are just a few of the examples driven by Generation Y young adults and professionals.
As Brady Halligan, The GREEN Program's Director of Enrollment and Partnerships explained,
"I'm passionate about where Philadelphia is moving with regards to sustainability and national leadership. It's focused on pushing young leaders forward, and promoting their dedication to making positive changes. Philly reminds us that young change-makers are valuable; we're taken seriously."
PROFESSORS, STUDENTS & HIGHER EDUCATION: OH MY!
Philly is home to more than 100 universities and colleges in the greater Philadelphia area. Being anchored between countless choice universities including Temple University, Drexel University, University of Pennsylvania, Penn State, and more, Philadelphia is the prime spot.
We won't only draw students leaders and change-makers onto our programs, but we'll continue to establish our roots and build long-lasting relationships with surrounding universities.
THE "CITY OF COMMUNITY LOVE"
Beyond continuing to establish our professional relationships with surrounding universities throughout the city, Philadelphia is our community. Our home. Headquartered as an Anchor Member of the Impact Hub, we are fortunate to work amongst a group of like-minded organizations and change-making initiatives including Generocity, Here's My Chance and Teal Orbit.
We love Philadelphia for umpteen different reasons outside of the business-minded and professional benefits the city offers, of course! Halligan shares his love:
"I can see a show any night, I can go snowboarding in the Poconos and surfing at the NJ shore in a short drive, I'm close to my family, and I'm connected to a professional network of leaders and am currently enrolled in Philadelphia University's Strategic Design MBA program. Philly has it all."
Whether it's the city's platform for professional development or personal growth, Philadelphia is truly a melting pot!
Readers, what do you love about Philly?
Author, Caitlin Cowan
See original article at: http://www.greenphillyblog.com/philly/why-green-program-chose-philly-over-new-york/#comments