A week of events for students and professionals to connect about food and sustainability.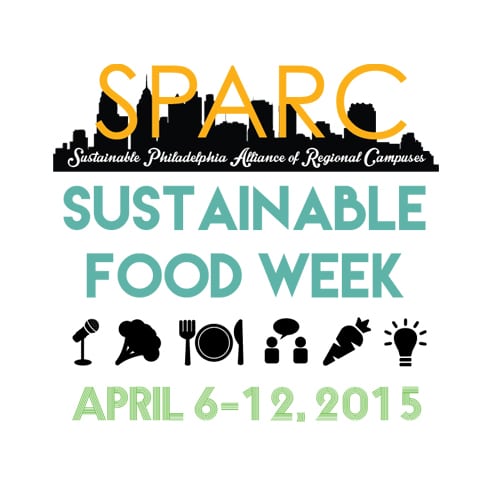 SPARC (Sustainable Philadelphia Alliance of Regional Campuses) is hosting SPARC Food Week from April 6-12.
"The goal of SPARC Food Week is to bring together students and professionals from the Philadelphia area who are passionate about the intersection between food and sustainability," said SPARC co-founder and facilitator Sara Allan. "We hope that our food week events bring together students to inspire them to create even more positive change on their campuses and in Philadelphia."
Allan said SPARC's Food Working Group is partially modeled after University of Pennsylvania's own Food Week.
"As a Penn student, I've seen Penn host Food Week for a few years now. The events are awesome, but with a limited number of students at Penn interested in sustainable food and a limited number of groups planning the events, the momentum tends to slow down by the end of the week," she said.
"In working with our Food Working Group, we thought 'What if we could do something similar but with students, groups, and professionals from all over Philadelphia? How much more diverse would our audience be? How much more attention and energy could we create for sustainable food?' And that's how food week was born."
SPARC Food Week includes quizzo about sustainable food at United By Blue, an Iron Chef competition around local and sustainable foods, a SHARE warehouse tour, the GREEN Program Soiree, and more.
The Soiree will bring together like-minded students, organizations, and companies who care about social impact. The evening will be filled with unconventional presentations, exhibits, and networking, but it'll be different from a traditional networking event.
"When you think 'networking event', the idea of suits & ties, resume circulation, and vapid small talk often comes to mind," said Caitlin Cowan, Enrollment Coordinator for the GREEN Program. "By bringing together like-minded, forward-thinking students, companies, and individuals who are truly passionate about sustainability and social impact, we want attendees to extract value beyond handing out business cards and collecting resumes. We want people to begin to spark conversations and build lasting relationships toward the bigger picture goal of a better and more sustainable future."
In addition to bringing students and professionals together around sustainable food, the week will also serve as a test run for future themed-weeks around each of SPARC's working groups, which include energy, waste, transportation, and others.
"We also wanted to try hosting a series of events for the first time to see the feasibility of expanding themed weeks in the future. So far, we are incredibly excited about the progress of our events and plan on hosting a week for each one of our working groups next year," said Allan.
Registration is required for all events. Registration and more information can be found on SPARC's website.
See the originial article here: http://generocity.org/philly/2015/03/30/passionate-about-the-intersection-of-food-and-sustainability-attend-sparcs-food-week/