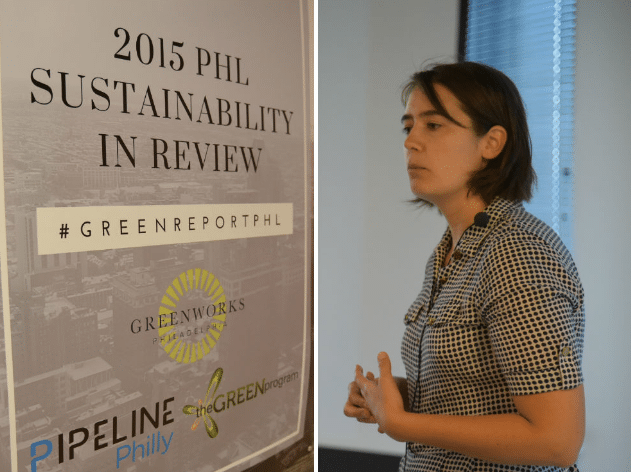 July 2, 2015
How green is Philly? Greener than it used to be, but not as green as it wants to be.
Since Mayor Michael Nutter took office in 2008, Philadelphia is trending in the right direction for sustainability in columns like reducing greenhouse gas emissions and improving air quality to better meet federal standards.
But after years of work by the Mayor's Office of Sustainability, an office that just earned permanent status in November, more work needs to be done to better reduce energy consumption by both the city government and other citywide buildings.
The Philadelphia-based Green Program hosted representatives from the Nutter administration Thursday in the unveiling of the Office's annual and final update on the work performed as part of the "Greenworks" implementation timeline which laid out six-year sustainability goals in 2009.
The report was released Wednesday and breaks down each of the city's 15 targets, evaluates what was learned through the process and looks forward to what the next administration can do.
Of the 15 main targets, five were met or exceeded, six came close or were trending in the right direction and four others weren't met. And of 164 planned initiatives, 160 were started. The Office also launched a Greenworks Map, an interactive map that outlines where the city is implementing new green infrastructure or planning.
Here are eight things to know from the new report and today's presentation by the office:
1. We know more of the things now
Before Nutter took office and established the Mayor's Office of Sustainability, there was no central database that collected information about the city and the government's energy usage, so officials couldn't set goals when they didn't know what the baseline was. After the Office was established in 2008, it started collecting data and was able to establish baseline information and set goals the following year.
"Our goal was always to make decisions based on data," said Sarah Wu, deputy director for planning in the Office of Sustainability. "Before, we were operating in the blind."
2. Recycling: It's a good thing to do
When Greenworks set its original recycling-related goals, just 6 percent of the city's curbside waste was recycled. The process was confusing, inconsistent and required residents to split up different items that would be recycled.
Wu said that since then, more than 20 percent of city waste is recycled. She attributed the huge increases to a recycling rewards program that was implemented as well as the fact that collectors have expanded what is accepted. The actual effort required to recycle has decreased and resulted in more people actually doing it.
3. Greenhouse gas emissions are decreasing, but not enough
Greenhouse gas emissions decreased in some ways over the six years that the Greenworks goals were in place. Officials wanted the city to reduce them by 20 percent over the 1990 baseline — so 20 percent in 25 years.
Municipally, emissions were reduced by 15 percent. Go government entities! Citywide, the most recent estimates show that greenhouse gas emissions were reduced by just 1 percent.
Members of the Office of Sustainability found that buildings are the primary source of Philadelphia's emissions, noting that they accounted for 60 percent of the citywide emissions in the 2012 inventory — the 1,900 largest commercial buildings in the city make up 15 percent of citywide emissions alone.
Moving forward, the office recommended the next administration set "aggressive but achievable" greenhouse gas reduction goals for 2025 and 2050 and be sure to consider energy costs and carbon emissions of city purchases.
4. It's gonna get moist
Sorry for using that word. But these studies have showed that Philadelphia will continue to get wetter and warmer as years go by. While officials can't pinpoint how much sea levels will rise, they can predict what areas of the city will be vulnerable when they do. Here's a rough map of what that could look like:
Via @greenphillyblog
The good news? If and when sea levels rise, Philadelphia is less vulnerable than other large cities along the east coast (ahem, New York, Boston), but the Office of Sustainability still hopes to come up with a plan to tackle issues surrounding potentially rising sea levels. Later this summer, they'll release another report with suggestions and goals specifically regarding how best to prepare for this.
5. Renewable energy is going in the right direction
In 2008, just 2.5 percent of the electricity used in Philly came from alternative energy sources. Greenworks set a 2015 target of 20 percent, and while the Office didn't hit that, it reports that by year-end 2014, 15.2 percent of electricity used in Philly came from alternative energy sources.
What did the most to cause this surge? Philadelphia Water's biogas cogeneration plant, which saw big use in 2014. The plant converts waste from PWD's Northeast Water Pollution Control Plant into electricity.
Moving forward, the Office of Sustainability wants future administrations to better integrate energy planning and projections into the development process so that long-term energy resilience is considered when new construction is taken on in the city.
6. Fewer people are driving
Philadelphia exceeded its goals in decreasing the number of vehicle miles traveled. In 2005, Philadelphians traveled 5.96 billion miles in personal vehicles — that decreased to 5.26 billion by 2013. That number represents the fewest number of vehicle miles driven in more than 20 years.
Officials with the Office of Sustainability attribute this trend to prioritizing the visibility of opportunities for biking and increasing public transit ridership. Moving forward, they want future administrations to focus on prioritizing bike and pedestrian safety by adopting a Vision Zero platform with the goal of eliminating bike and pedestrian fatalities.
7. The 'energy hub' idea makes things difficult
Many people in Philadelphia's business and corporate communities have dreams of turning Philadelphia into the next great "energy hub," AKA the next huge natural gas hub. If natural gas companies can pump in more natural gas to our area from the Marcellus Shale-rich western PA and use Philly to refine and distribute it, Philadelphia could greatly benefit economically.
But sustainably, not so much. Katherine Gajewski (seen above), Philadelphia's director of sustainability, said the office is hopeful for more public dialogue surrounding the issue and for more studies to be conducted to project what likely outcomes would be if there were a natural gas build-up in Philly.
"What happens if we build out a fossil fuel-based economy in an increasingly carbon regulated environment?" she said. "What about potential new cap and trade regulations? What if climate change does accelerate and natural gas horizons more quickly, what does that mean?"
8. This work will likely continue
Philadelphia voters chose to overwhelming uphold the permanent status of the Office of Sustainability through a ballot question last November. And while the Greenworks goals have expired, Wu said she's hopeful the next mayor will continue forward with the suggestions made in this final report.
That's likely, as Democratic nominee for mayor Jim Kenney has outlined his energy and environmental plan which includes making investments in making city buildings increasingly energy efficient, further incentivizing renewable energy and locating and maintaining access to green space in every Philadelphia neighborhood.
See original article at: http://billypenn.com/2015/07/02/progress-report-is-philly-more-or-less-green-than-it-used-to-be/