Travel+Social Good teamed up with The GREEN Program and hosted its third annual summit on May 13th and May 14th. Held at the UN building in NYC and inspired by the UN's 17 Sustainable Development Goals, this summit aimed to answer the question: how do we mainstream sustainable travel?
But first, a closer look at TSG, the host organization of the 2016 global summit.
TSG is a nonprofit organization, aspiring to transform today's travel industry into one of a sustainable mind. According to their website, they describe themselves as, "a global community of changemakers, passionate about transforming the travel industry into a force for good." They aim to use "sustainable travel acts as the catalyst for solving the world's most pressing issues."
Tackling such an imperative issue, TSG enlisted help from The GREEN Program, which creates short-term experiential education programs abroad focused on sustainability development. Caitlin Cowan, the GREEN team's Global Communications Coordinator, said, "As the leader of the design-thinking session for this year's Travel+SocialGood Summit, we are elated to share our experiences and lead fellow professionals of the industry through an #onlyontheGREENprogram design thinking afternoon. However, even more so, we are eager to collaborate with like-minded thought-leaders in addressing the challenge of global sustainable tourism."
TSG and The GREEN Program called on 150 of the world's most innovative thinkers of sustainability, travel, technology, and social good to attend the summit and work together to develop a plan of action not only to advocate but also mainstream sustainable travel.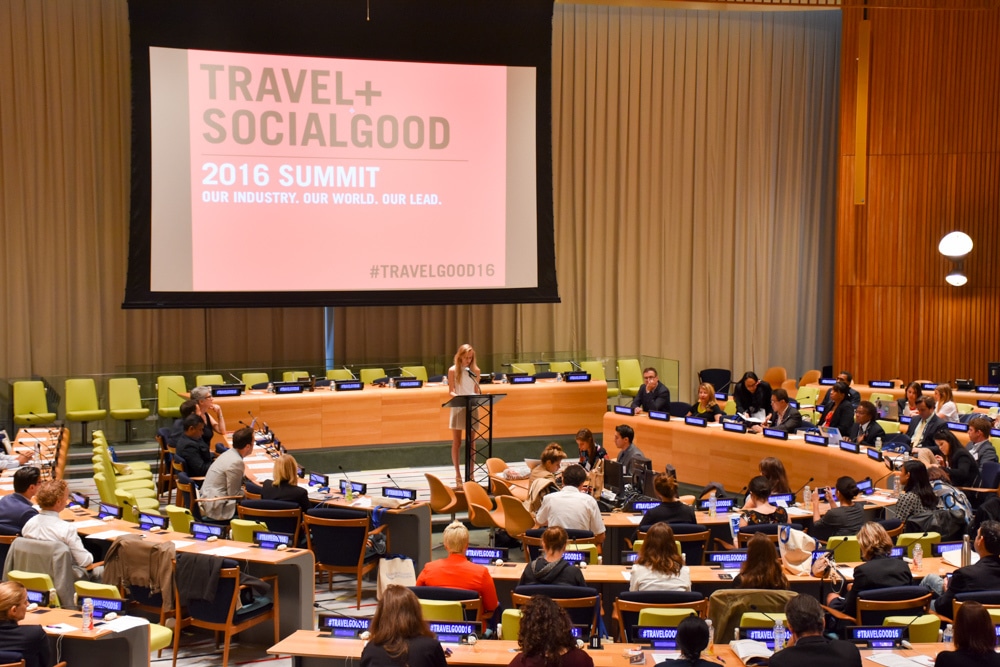 Some of these attendees included Sven Olf-Linblad (President and CEO at Linblad Expeditions), Anna Pollock (Founder at Conscious Travel), Sue Stephenson (Vice Chair, Executive Committee, IMPACT 2030), and Norie Ouintos (Editor at Large at National Geographic Travel).
Day 1: Touring NYC in sustainable style
On the first day of the conference, the Summit participants separated into different, experiential tours that exposed them to sustainable tourism in New York City. The purpose of these tours was to serve as an example of sustainable tourism that should eventually be incorporated into all travel. Some examples of these sustainable activities were a graffiti tour, a food truck tour, and a tour of Long Island City in Queens.
Two members of the GREEN team—Melissa Lee, Cofounder and CEO, and Brady Halligan, Director of Strategic Partnerships and Enrollment,—went on the Long Island City tour managed by the Brooklyn Queens Experience Tours. Co-founder of BQE Tours, John Garay served as their tour guide and lead Lee, Halligan, and various other Summit attendees to many of his favorite spots of the city, truly providing them with an authentic, culturally-enriching, and sustainable experience.
Halligan noted, "It didn't feel like I was a tourist at a destination. It felt like I was a resident for a day. Our tour guide did a very good job of providing a lens of how he sees one of his favorite neighborhoods of the city."
Throughout the day they visited a metal sculptor/stoneworker's art studio, walked along East River to a historical beautification of a former shipping dock, indulged on a gelato from a small, Italian restaurant, stopped at Rockaway Brewing, and finally ended the tour at a hotel rooftop overlooking the city. They completed the entire tour by foot and public transportation while listening to the tour guide share his knowledge on the history of Long Island City, the changes overtime, and the rising tension between local citizens, newcomers, and industries.
Halligan also commended the experience, saying, "Throughout the day, there was a good mix of history, culture, art, entertainment, infrastructure, and food which all helped set the tone for the next day of what a sustainable tour should be."
After a day-long immersion into the different, sustainable tours of New York City—all similar in richness and authenticity to Lee and Halligan's Long Island City tour—the attendees were ready to discuss how mainstreaming sustainable travel is possible…and the GREEN team was prepared to do more than just talk.

Day 2: Thinking in an entirely different box
On Day 2 of the conference, The GREEN Program partnered with Dr. Natalie Nixon of Philadelphia University to hold a three-hour workshop, utilizing an alternative tool to simple brainstorming called, Design Thinking. Design Thinking encourages small group breakouts and collaborative brainstorming through a series of creative exercises.
Design Thinking served as a way to tap into a more innovative side of thinking by getting the attendees out of their own individualized perspective of the travel industry. The GREEN Program emphasized the need for Summit participants to leave their comfort zones because this workshop was the "time to let your imagination come to life as we come together to address, discuss, and celebrate the immense amount of potential for positive impact on a global scale."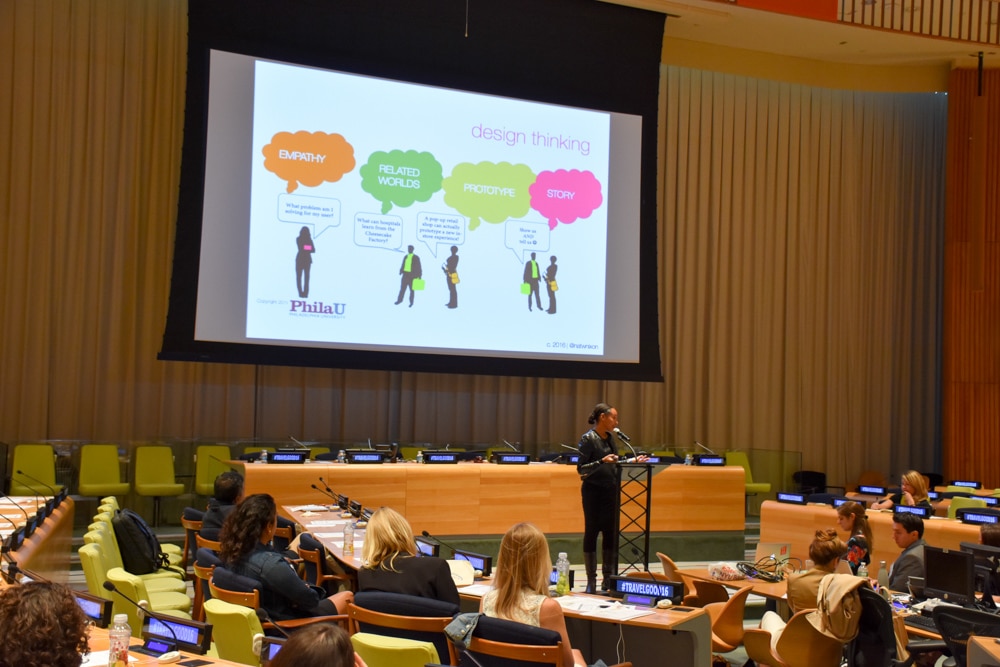 The workshop began with breakouts of preset groups of four individuals of varying backgrounds. They all took turns sharing their different insights about sustainable travel from their recent travels, from the tours on the previous day, and from the experiential research session from that morning.
Soon following, The GREEN Program and Dr. Natalie Nixon lead the attendees in a Design Thinking technique called, quiet storming. This technique entailed two-minute ideation sessions where each person wrote down any overlapping synergies from their discussion on post-it notes. They moved as fast as they could, used as many post-it notes as they needed, and stuck them to the walls. Afterwards, everyone reviewed the post-it notes and clustered similar thoughts together.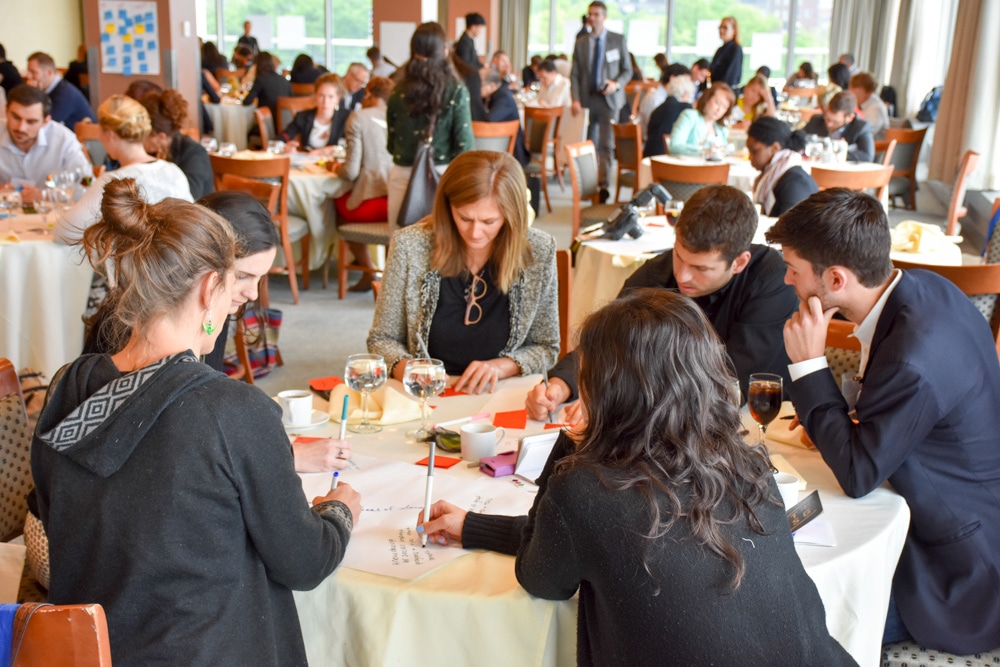 An additional Design Thinking activity assigned each group a persona with a detailed description of a hypothetical, potential client or customer going on a trip. Some examples of these personas are a business traveler, a spring breaker, a retired man, and an average family. Each description included characteristics of that client, such as price sensitivity or family-friendly or a specific time frame.
Upon receiving these personas, each group was then asked to design an experience, process, service, or product for that persona while remaining sustainable. The GREEN Program further challenged the groups to use concept maps to draw out these ideas, which they eventually pitched to the rest of the Summit in a short one-minute presentation.
Lastly, all of the participants used stickers to vote for what they deemed the most important issue and trend of sustainable travel. These results, including the ideas that were earlier discussed during the Summit, are all being analyzed by NYU and incorporated in a whitepaper, which will be released at a later date.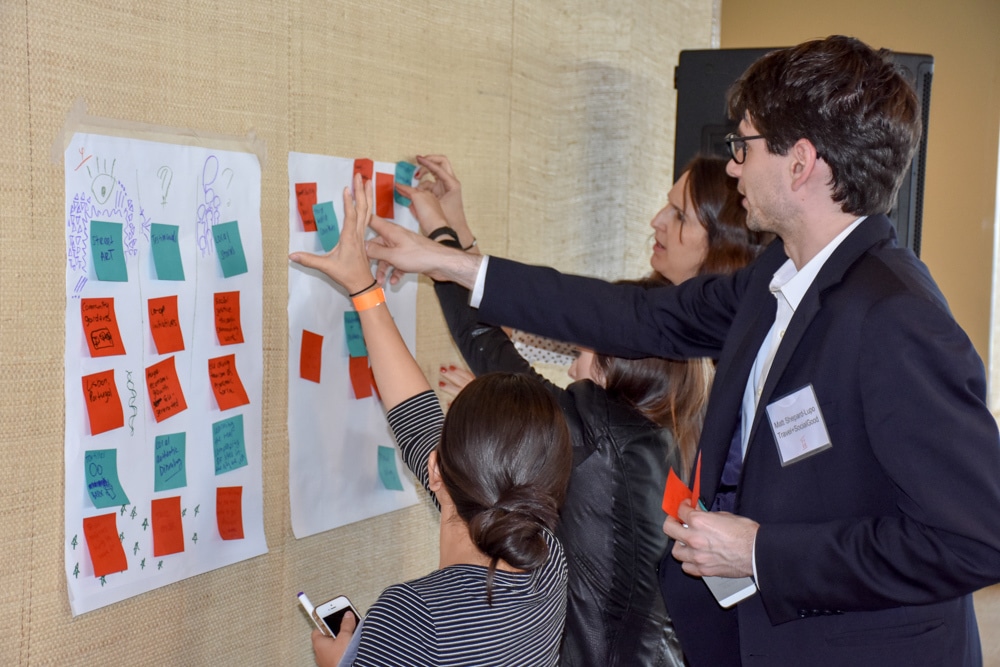 All around, The GREEN Program's Design Thinking workshop was a success, as Halligan noted everyone was excited and eager to participate. He explains that taking the topic of sustainable travel—which is normally viewed in a negative light—and using Design Thinking to make it more optimistic and creative allows for more solutions to come easier.
The GREEN team's Amanda Crawford-Staub, the Student Relations and Strategic Partnerships Associate, reflects, "I think the event was a success in bringing together numerous people from different fields of the travel industry…it was also really cool that we got to interact in a nontraditional settings in the tours and the workshop."

Most importantly, she notes that the summit was "a great opportunity for people to network and push the agenda for sustainable travel forward."

Dawn Drew, the Founder of Moste, Inc., commented on Design Thinking, "Would I use it again? Absolutely. Would I suggest it? Definitely. I like it."
Additionally, Miles Knowles, who is currently involved in Sustainable Tourism Consulting and also the Summit's event photographer, said that Design Thinking is "a great way of working with people from diverse backgrounds and synthesizing a business ready idea in only a couple hours."
Finally, Founder of Conscious Travel, Anna Pollock, explained that, "What we have to do in tourism is trust in people's innate ability to be creative and make a difference, especially when they start working together…the design process is one way of showing people or enabling them to experience that they have that capacity to be creative so I was very impressed with what happened today, just what came out of it in literally two or three hours."
If one thing is certain, it is that the Travel+Social Good's 2016 Summit, specifically with The GREEN Program's Design Thinking workshop, brought together some of the most avid visionaries and innovators to enact positive change. This summit served as the next step into making sustainable travel a characteristic that is embedded in all travel.

Text by: Colleen Burns
Photos provided by/credit: Travel +Social Good, Miles Knowles