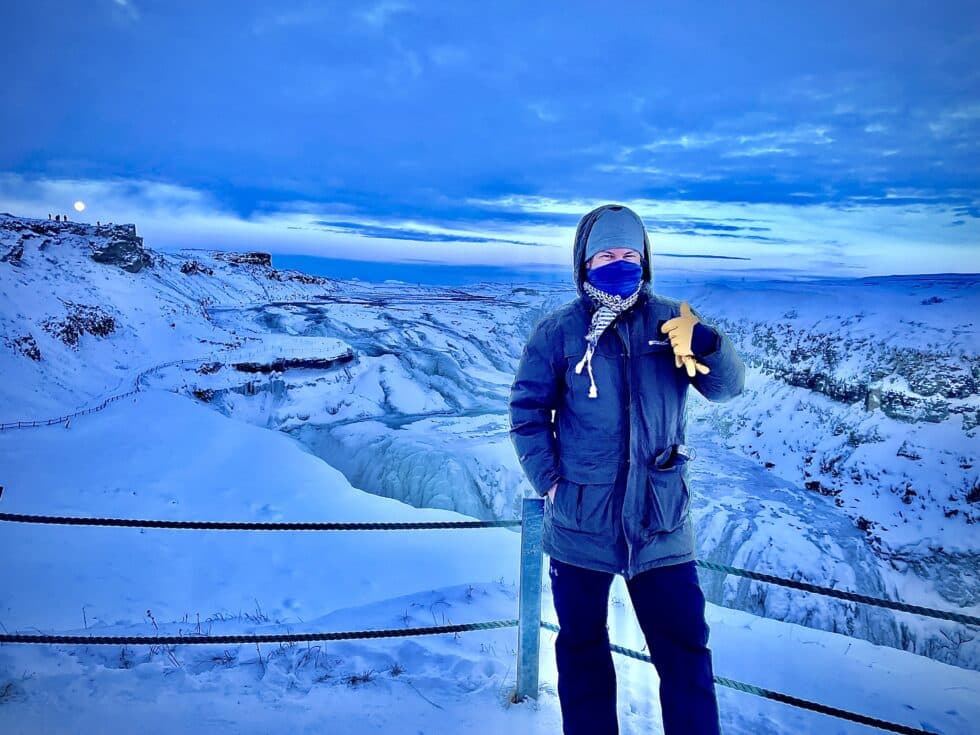 Thanks to The GREEN Program, through its thoughtful, hands-on curriculum, and the implementation of the Capstone Project, I got to see firsthand that I am not the only one interested in making the world better for future generations, and I got to experience how the world is the best classroom.

Daniel Alberto Ardila Anzola, Iceland 2023
Table of Contents
Internal Realizations: Joining a sustainability study abroad program to gain professional development with The GREEN Program
Instead of spending holidays at home, in a quiet Christmas environment with family, I guess one of the other options is always the less traveled road, right? Well, with 180% support from my partner in crime, I was on my way to Iceland first thing on New Years Eve 2023 for a sustainability study abroad with The GREEN Program. This is when the whole portal opened, 5 hours after flying from NYC to the Mid-Atlantic Ridge located country of Iceland. The whole professional development journey unfolded naturally, with no incidents and with no expectations beyond catching the Aurora Borealis.
The simple act of sharing personal spaces 24/7 for 8 days, or being part of a 20 person team, going through almost half of the day without seeing the sun, walking through ancient Viking lands and glaciers under intense snow-covered winter wonderland weather, enjoying 10 km sunset hikes, jumping into an ancient natural hot spring river, trekking through ice covered caves, refilling water from glacier water springs, without being conscious that everything was connecting myself and our energies and vibrations with likeminded souls, all of them certainly amazing, smart, grounded humans. While all those events were happening, I heard that internal CLICK! I identified the click as "this is how I want to engage, make my next moves, boost my professional scope…how I want to surround myself and how I want to spend my time in the future."
Lectures & Classes: Re-Energized with knowledge around renewable energy innovation and policy
The Iceland School of Energy at Reykjavik University was a major statement, my soul got re-energized and infused with knowledge, the renewable energy and innovation lectures were given by highly qualified, kind, professionals and professors, with useful, astonishing facts, sharing history of the roots, sacrifices, technologies, and efforts that humanity had faced to overcome the challenge of generating and harnessing nature's power, especially the impressive learning curve of Geothermal and Hydropower that today supplies 100% of Iceland's electricity demand.
"Living and studying abroad can change our lives. Surrounding yourself with the right people, thinking outside the box, making that scary jump, and always doing things with relentless passion will open doors and give us wings to get where our minds and dreams go, let alone the exponential non-monetary returns of fulfilling our soul."

Daniel Alberto Ardila Anzola

The Energy Entrepreneurship module by Professor Morgan Greene gave us a 30,000 ft. perspective and approach to Environmental Policy, my head went back to my experience as an advisor for a Master Plan for the Orinoco Basin, back when I lived in Colombia. I was able to unlock and understand the key importance and strategic role of environmental policy-making, its transversality, and how this becomes the backbone for sustainability efforts and flow of resources if we really want to settle foundations for a better future around the sustainable development of our communities, cities, environment, and societies. Thanks to The GREEN Program, through its thoughtful, hands-on curriculum, and the implementation of the Capstone Project, I got to see firsthand that I am not the only one interested in making the world better for future generations, and I got to experience how the world is the best classroom.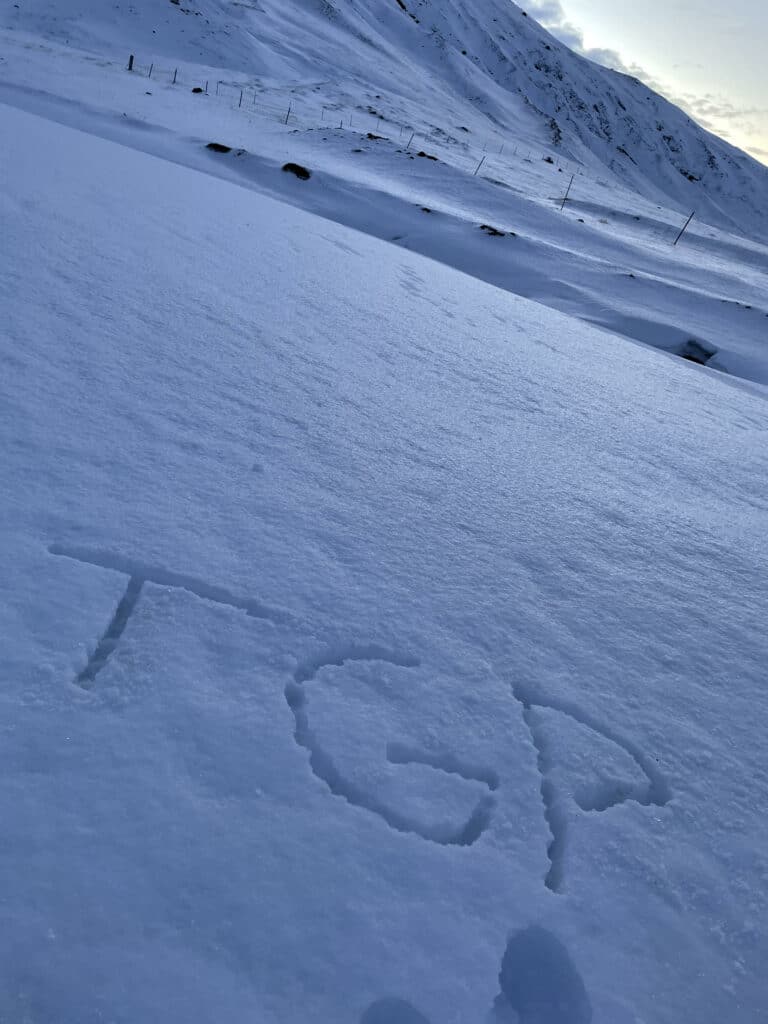 8 Professional Development & Sustainability Skills Gained Through My TGP Study Abroad Experience
Communication:
Learning new words, and technical terminology, building presentations and speaking in public definitely activated many parts of my brain that enabled me to speak with more confidence, especially through the constant input of technical language, data, facts, and meanings, not to mention the complex Icelandic language, this experience definitely got my head open to a younger generation concerned with today's environmental challenges.
2. Independence.
As much as I have always been a super independent person, being exposed to a 24/7 group experience, and experiencing a harsh cold environment while hiking in the evening time, taught me how underrated and forgotten the concept of caring for one another has become, and how important it is having a collaborative mindset, instead of a super competitive individual goal-driven mindset.
3. Problem-Solving:
The pressure of having a Capstone Project to deliver under a limited amount of time between tours, expeditions, lectures, and transportation was haunting me for a while, however, once we were focused on getting it done, each one contributed their expertise and field of knowledge, I consider that humans have the great capability of making things happen when there is passion, the need and hunger for change or just to help others, no matter the stakes.
4. Adaptability:
I'm probably one of the oldest students of The Green Program, and I did not think about that when I applied to it, I just thought of the great experience and structure that it would bring for me as a professional, and as a person, so, this whole Expedition definitely reminded me of my nature, my capacity to adjust, to blend in, and that we are all the same no matter age, as long as we are likeminded and aiming to the same north – it is like an orchestra where all that matters is the instruments adding up to the song, not the person behind it.
5. Curiosity:
Some of my favorite books and characters are The Little Prince and The Journeys of Marco Polo, both are curious and free characters in nature, relentless, seeking, learning, investigating, and understanding. I think we were given the most amazing super-mega computer packed on a perfect body, however, day-to-day modern life, school, society, and many other external factors little by little tend to limit and diminish our light. I believe in knowledge as the key to wisdom and the key to staying active, happy, and making life the most out of it. Now, after the TGP Capstone Project, I want to pursue this idea we worked on. I want to learn more about Environmental Policy, and similar technologies and want to travel to more places that can give me first-hand experience. Curiosity is everything, as babies and kids that's what gets us inspired, and that's how many treasures are found.
6. Foreign Languages:
Languages are keys to accessing cultures, places, people, relationships, and businesses and are the best way to immerse into the magic of the world, the same way animals have theirs, and the more we know the better people we become. My personal experience told me first hand that Icelandic is definitely one complicated language, as much as I wanted to learn some it wouldn't go further than Flott and a few numbers. My native language is Spanish, and I hope to be able to learn many more languages and pass that into my kids in the future, that's a talent and a gift.
7. Collaboration:
There's an African proverb; If you want to go fast Go alone, if you want to go far go together. In the corporate world and in many sports, competitiveness, being the first and the best, the only, etc, is a rule, however, collaboration is what really brings humans together, helping each other, contributing, supporting, adding, and pulling on the same direction is what I believe can really make the difference. The Capstone project is, again, another great example of different universes and perspectives and backgrounds gathered for a common purpose, that's The GREEN Program and Reykjavik University and Midgard Expeditions and Passionate people that care for a better planet.
8. Other Skills:
Walking on glaciers, wearing crampons, controlling breathing while hiking on snow-covered paths, regulating body energy, staying alert while walking in caves or in the dark, watching out for your partners, being open to unknown schedules, listening to engineers, financial people, and multiple disciplines is something I call life experience when lots of those add up they can become a skill, the social skills, human skills, critical thinking, systemic thinking are automatically activated and triggered by leaving our comfort zones.
Daniel's Main Takeaways
A few years ago I decided to reinvent myself and pivot from my Marketing and International Business background, towards my passion which is the environment and sustainability. But, how can I help the world while making a living from it? After moving from Colombia to the US almost 3 years ago, I did lots of research, reading, taking courses, and working as a Solar Consultant for over a year…then The GREEN Program crossed in front of me like a shooting star. Even though I signed up initially for the Nepal program, I had to readjust, made a decision and embrace the radical change. Then, once in Iceland, in a little less than 200 hours, I met over 25 amazing souls, from different backgrounds, ended up being part of a great group with 4 new friends and was able to put together a Capstone Project with a potential solution that could bring potable water to millions of people, by desalinating ocean water, with a sustainable business model and creating energy storage systems with the by-product of the desalination process. I firmly believe that living and studying abroad can change our lives, surrounding yourself with the right people, thinking outside the box, making that scary jump, and always doing things with relentless passion will open doors and give us wings to get where our minds and dreams go, let alone the exponential non-monetary returns of fulfilling our soul.
---
Learn more abut the Iceland: Renewable Energy Innovation & Sustainability program that Daniel participated in HERE.
*Our team here at TGP loves to stay connected with our alumni and share their post-program stories! Do you want to be featured in our Alumni Spotlight series? Email Andrea at [email protected] to find out how!