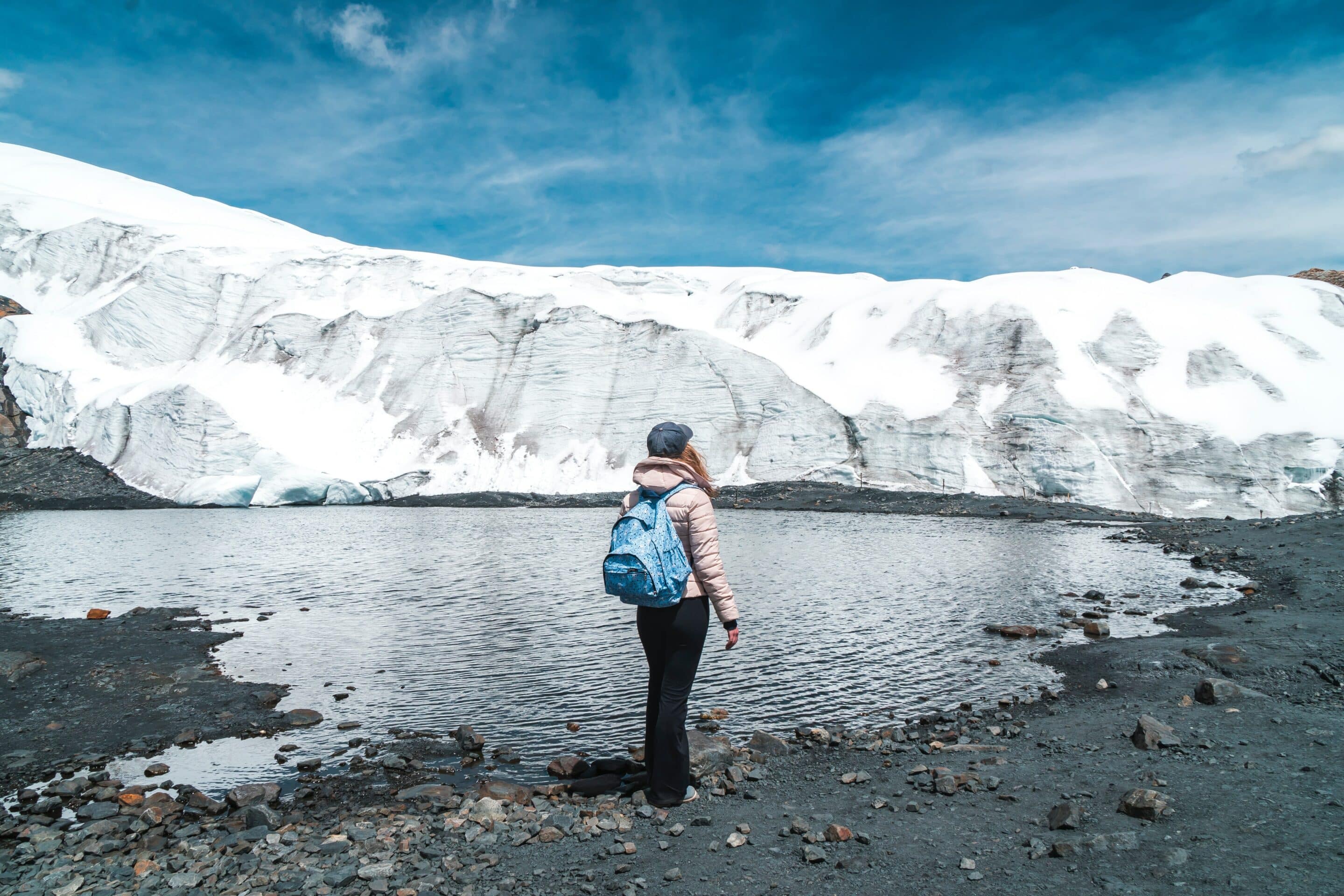 Photo: Person with backpack looking at a glacier in Iceland. Photo credit: Willian Justen de Vasconcellos
Embarking on a study abroad program and in need of financial support? Don't worry! You're not alone. In 2023, the average cost for a semester abroad is $16,368. Due to the hefty costs. more than half – 57%- of students say that they'll use student loans or other funding methods to cover their study abroad costs. While The GREEN Program's short-term program offers programs at a fraction of the time and cost of traditional study abroad models, we understand that funding is one of the main barriers to these life-changing opportunities.
Acknowledging the unique challenges faced by underrepresented communities, we understand that securing funding for study abroad experiences can be more challenging. However, we are committed to supporting students from all backgrounds in their pursuit of international education. Our aim is to provide resources, guidance, and information on scholarships, grants, and funding opportunities that specifically cater to underrepresented communities. We believe in fostering inclusivity and ensuring that everyone has an equal opportunity to embark on a transformative study abroad journey. Here's a step-by-step guide to help university students seek funding for their study abroad program:
8 Steps to Help Fund Your Dream Study Abroad Program

Research Funding Opportunities: Start by researching the various funding options available for study abroad programs. Check with your university's study abroad office, financial aid office, and scholarships department to explore scholarships, grants, fellowships, and other funding sources specifically tailored for study abroad experiences. Here are a few opportunities that TGP recommends you start with the following:



Payment Plan Option: Some providers may offer a payment plan option, allowing you to divide your program fee into smaller, manageable payments over time. This option empowers you to pursue your personal and professional growth without placing undue financial strain. Just keep in mind that the full program fee may need to be paid in its entirety before the program deadline. At TGP, students have the option to pay in full, split up the payments into five smaller monthly payments, or finance up to 36 months.


Financing Program: In collaboration with the Clean Energy Credit Union, prospective TGP participants can enroll in an affordable financing program that provides affordable loans ranging from $1,000 to $6,000 with flexible 12, 24, or 36-month repayment options. This program also integrates the benefits of green banking, empowering individuals who are passionate about environmental issues to attend The GREEN Program more sustainably. Learn more and apply here: https://www.cleanenergycu.org/personal/green-program-loans/


University Study Abroad Financial Aid: Explore funding opportunities available through your university's study abroad office, financial aid office, and scholarships department. Students who choose to participate in study abroad programs may qualify for financial aid to help defray a portion of the expenses. Contact your university's financial aid office first so you can explore options for financial aid. If you are able to transfer the program credit to your home university, this should only increase your chance of getting financial aid.


Funding from your Academic Department: Check your university's department website, consult academic advisors, or visit the study abroad office to gather information about scholarships, grants, or financial aid programs specifically designed for study abroad participants.


TGP's Scholarship Fund: If you're traveling with The GREEN Program, look into our scholarship opportunities offered to participants from underrepresented communities such as BIPOC or ethnic minorities, LGBTQIA+, women in STEM, low-income, first-generation, and other historically underrepresented communities in study abroad. Applications are reviewed on a rolling basis.


Explore External Funding Sources: Expand your search beyond university-specific funding. Explore non-profit organizations, cultural exchange programs, government scholarships, and crowdfunding platforms that support study abroad experiences.


Crowdfunding: Another effective way to raise funds for your study abroad program is to utilize special occasions like holidays an birthdays to reach out to your network for contributions. Explain how this experience will personally enrich you, expand your academic horizons, and enhance your future professional prospects. Express gratitude for any support received and provide clear instructions on how to contribute, whether through crowdfunding platforms or direct payments.



Understand Eligibility Criteria: Familiarize yourself with the eligibility requirements for each funding opportunity. Take note of criteria such as academic merit, financial need, field of study, or destination preferences. Ensure that you meet the necessary qualifications before proceeding with your applications.


Estimate Program Costs: Determine the estimated costs of your study abroad program. Consider factors like program fees, travel expenses, accommodation, meals, insurance, visa fees, and personal expenses. Having a clear understanding of the overall financial commitment will help you determine the amount of funding you need.


Create a Budget: Develop a detailed budget outlining your anticipated expenses and the amount you are seeking in funding. This will demonstrate your financial planning and help funding organizations understand how their support will contribute to your study abroad experience.


Gather Required Documents: Prepare all the necessary documents for your funding applications. These may include academic transcripts, letters of recommendation, personal statements, financial aid forms, and any other supporting materials requested by the funding organizations. Ensure that you have everything ready before starting the application process.


Start Applying: Begin the application process for the funding opportunities that align with your program and eligibility. Follow the instructions provided by each funding organization, paying close attention to deadlines. Tailor your applications to highlight your strengths, achievements, and goals. Emphasize how the study abroad program aligns with your academic and career aspirations.


Seek Guidance: Seek guidance from the study abroad office, your academic advisor, or the scholarships department during the application process. They can provide valuable advice, review your application materials, and offer insights to strengthen your applications.


Keep Track and Follow Up: Keep track of your applications, deadlines, and any correspondence from funding organizations. If you don't hear back within the specified timeframe, consider reaching out to inquire about the status of your application. Express your continued interest and enthusiasm for the funding opportunity.

Remember to start your search early, be proactive, and stay organized throughout the funding application process. With thorough research, well-prepared applications, and perseverance, you can increase your chances of securing the necessary funding to support your study abroad program and embark on a transformative global adventure. Best of luck!