What do you get when you combine quirky & inclusive company culture and an unending determination and mission for positive sustainable development & social impact? The best hiring duo you could ask for!
Brady from TGP has worked to develop an integrated strategy with leadership at Inspire to  source the right talent from the GREEN Alumni network for open opportunities across Inspire's business. Inspire, positioned in Philadelphia and Los Angeles, are in a growth stage and in need of talented young minds to help navigate the road ahead, and we are confident in GREEN Alumni stepping up to the challenge. This means that Brady is sourcing resumes from Alumni, providing career advice and recommendations, making direct connections for Alumni to Inspire and playing internship and job matchmaker.
What does the future of TGP & Inspire look like?
"A year from now, selfishly I want Inspire to be filled with a handful of GREEN alumni across multiple departments of the business, so we have more of our GREEN family near GREEN HQ making real impact in their professional careers," says Brady Halligan, Director of Strategy & Business Development. "But in all seriousness, I am excited to reflect on the new partnership a year from now and analyze how GREEN alumni are contributing to Inspire's company growth and strategy. Additionally, I think this is the first step to a deeper integration of our two company cultures, which are very similar, but I think we can learn a lot from each other, while having fun in the process."
With similar mentalities of "work hard, play hard," we're also looking forward to having some fun with their Avenger team, too!
"Maybe team retreats and workshops, to co-hosting networking meetups, and even mariokart and putt putt tournaments, the possibilities are endless," says Halligan. "Ultimately, the point of this partnership is to collectively commit to better prepare the next generation of emerging sustainability leaders to be ready to take on the world's challenges with an optimistic view."
On behalf of the entire GREEN Program Team, we couldn't be more excited for this newfound partnership and the adventures ahead (and of course, more cupcake smashes)!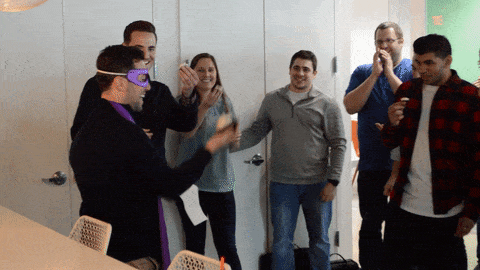 Read more about this TGP and Inspire partnership from Inspire's team here.
Interested in opportunities at Inspire? Reach out to Brady to start the conversation – [email protected]