Did you know that one in four GREEN students are travelling for the first time?
We understand that booking flights can seem like a daunting and task, and even a bit confusing at times, but our team is here to help provide you with some resources to book your airfare with ease.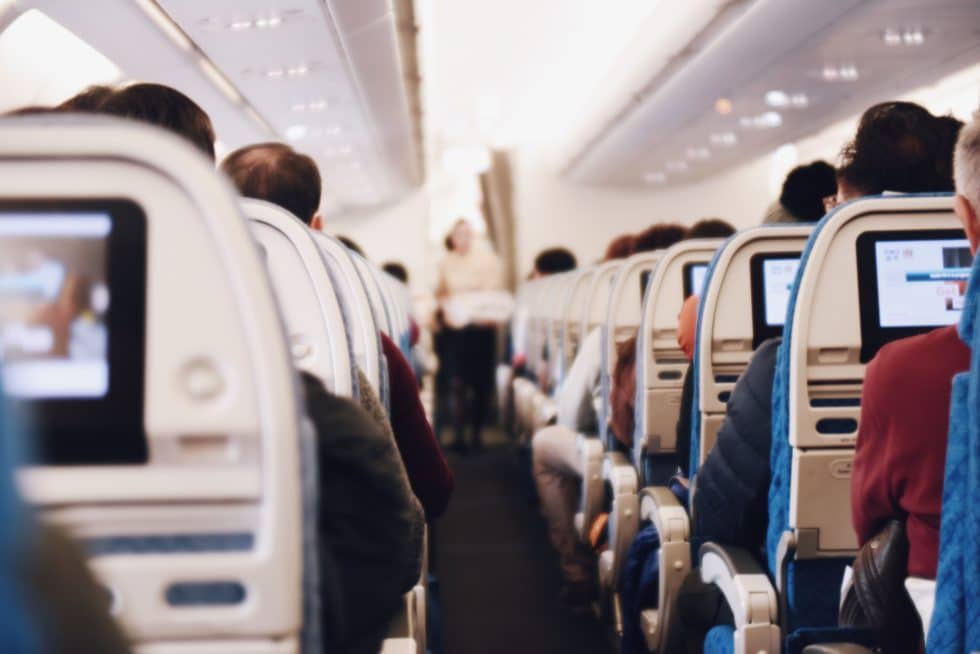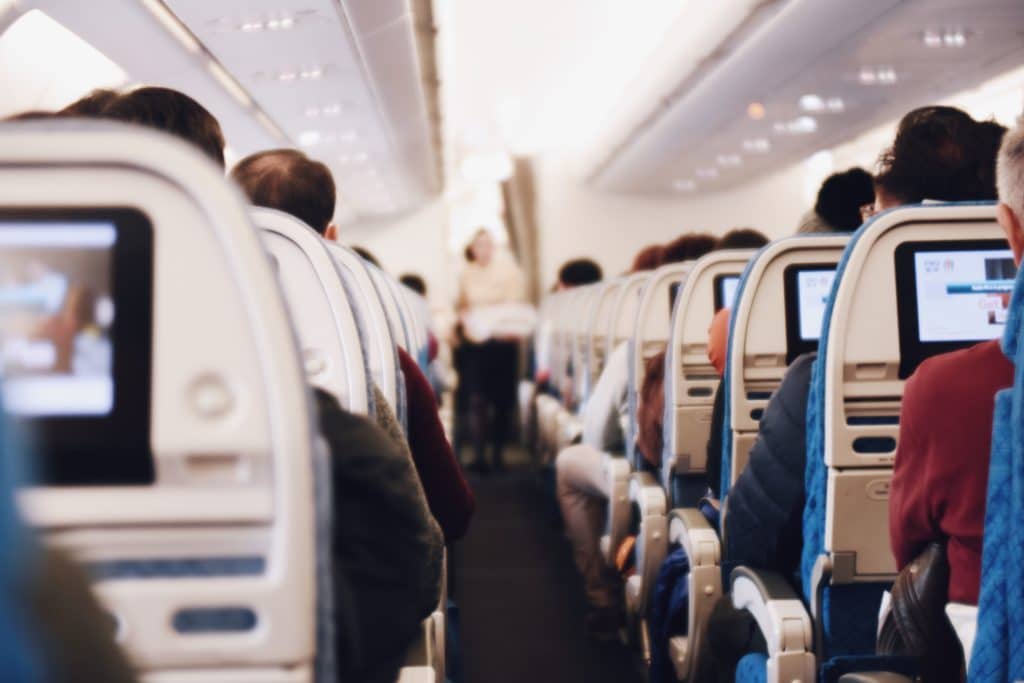 So, where are you headed?
---
Before you dive into search engines, apps, travel planners, or other resources, we always recommend that you gather some preliminary information to help launch your search.

What's your destination?
Each program has an airport that you will be asked to fly into (and out of) for the program. The names of these airports (and their corresponding airport codes) have been listed below to help you kickstart your search!
Iceland: Keflavik Airport in Reykjavik (KEF)
Peru: Alejandro Velasco Astete International Airport in Cusco (CUZ)
Japan: Narita International Airport in Tokyo (NRT)

What dates do you need to be there?
It is mandatory that you purchase a flight that meets our time parameters. You can find these details in your program package.
For all of our programs, we ask that students arrive by 9:00 AM on the first day of their program. Typically, that means you'll need to start 'traveling' the day before.

To account for time differences, cheaper flights, or additional travel, students often choose to arrive early or leave late from GREEN programs. While you are more than welcome to do so, please note that any accommodations and transportation you may need outside your program dates will be your responsibility. Additionally, you will still be required to meet up with your TGP group on the first day of your program.

Please let us know if this is your plan, and we can send you recommendations for places to stay!
Flight for thought!
Consider how flexible you are with your dates. If you have to be in Iceland for the program from the 14th to the 23rd, sometimes you can find a cheaper flight that gets in a day earlier, or leaves a day later. The same rules apply in regards to your responsibility for accommodations and transportation beyond what The GREEN Program provides.

Where are you coming from?
Determine your top choice airport as well as additional options nearby. Occasionally, you'll find that flight options (quantity, timelines, etc.) vary from airport to airport. Additionally, prices can vary from airport to airport because of the size of the airport or it's popularity. For instance, our office is based in Philadelphia, Pennsylvania, but it is often cheaper for us to fly from Newark, NJ.
Keep in mind cost! Is it cost effective to drive/take transit to an airport a little further away?

Don't forget! | Additional Resources
---
Sign up for list-servs and other flight services/alerts! Scott's Cheap Flights is an email listserv that sends out price updates on all sorts of flights. They often catch the cheapest flights they find, so signing up and hearing about flights from them is an excellent source!
Booking myths | Timing when you buy: Many of you may have heard that the cheapest day of the week to purchase a flight is Tuesday, and while this is partially true, the best thing to do is to track a price and snatch it when it falls. The New York Times detailed a piece on looking for the cheapest flights here.
Using your flight miles: A number of credit cards offer rewards directly for traveling! Often times, credit cards will include 'miles' as a reward option that you can put toward flights. Check with your bank to explore your options or if you already qualify.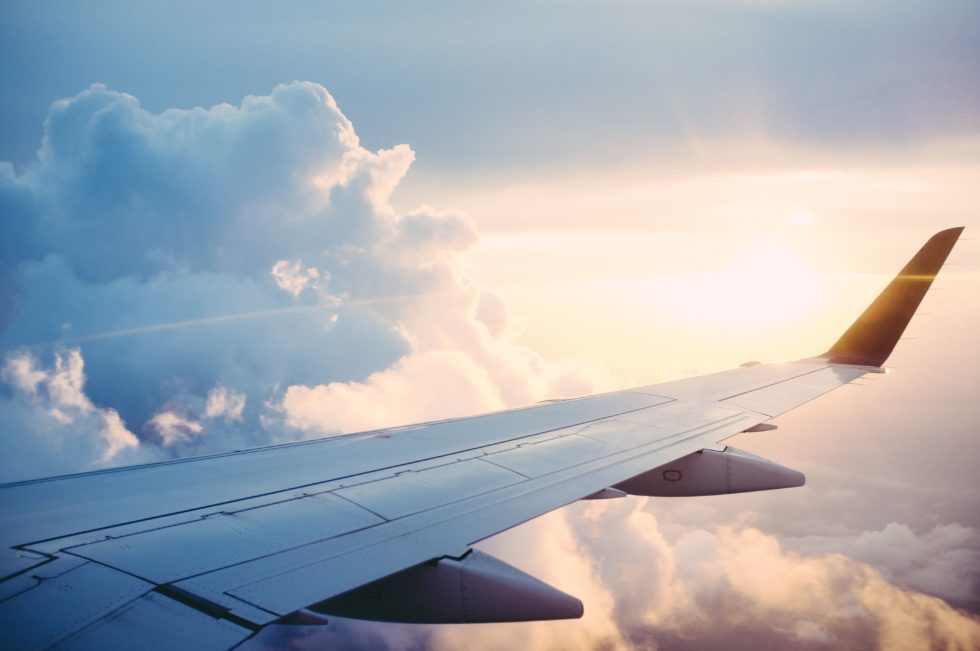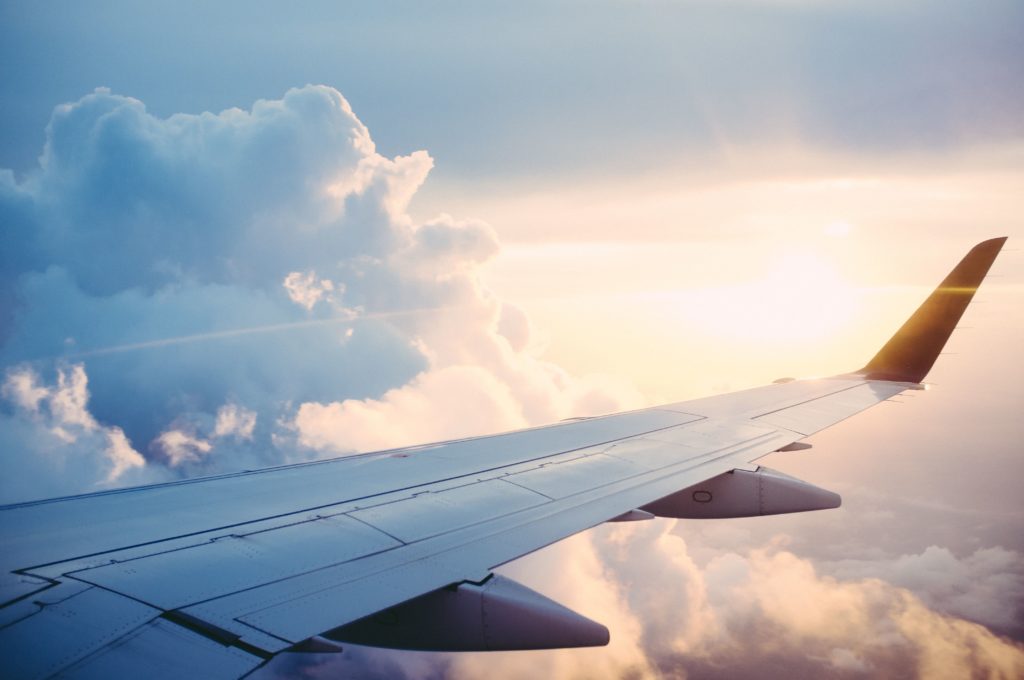 We'll offset your carbon emissions!
While you are not obligated to book through our partner, StudentUniverse, you ought to know that we offset your carbon emissions if you chose to use their services.
Let's get started!
Lets walk through a sample flight itinerary together
I plan to attend the Iceland: Renewable Energy & Sustainability program from August 6-15, 2018, flying from Philadelphia, Pennsylvania. 
Arrival and departure details: I'll need to be at KEF by 9:00 AM on August 6th, and I'll need to depart at 4 PM or later on the 15th. My goal is to fly out of PHL, but am flexible, and go to Newark if I need to (EWR) because it's only an hour outside of Philadelphia.
I've never booked a flight before, so I think it I would like to look into options through TGP's partner, StudentUniverse: I enter my information in Student Universe's search tool, and I know that many flights are overnight from the east coast of the USA to Iceland, so I selected my first day to travel as the 5th instead of the 6th.
*Below you can see a screenshot of my search for flights from PHL to KEF that depart on the 5th and depart on the 15th. It says that I have picked the cheapest dates around it to fly.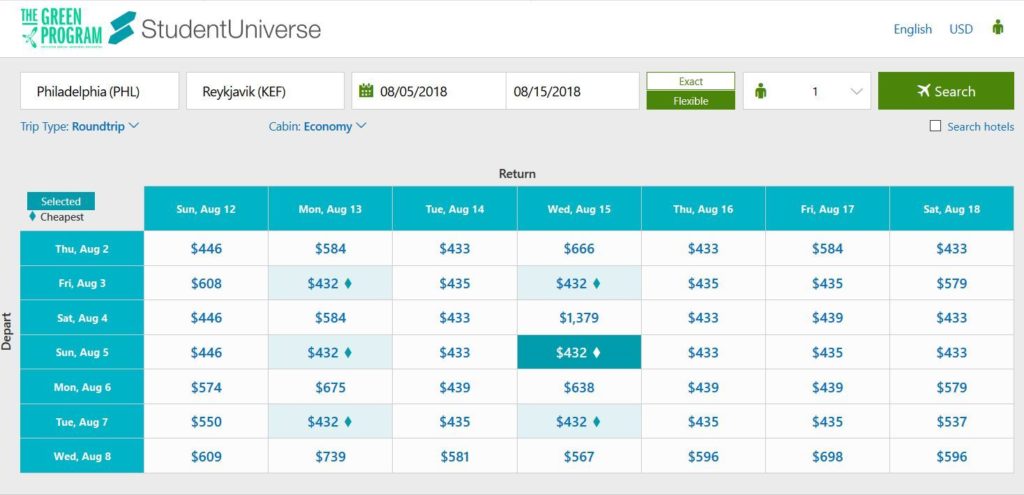 What's the deal with layovers? There are two types of flight: direct and connecting. Direct flights will take you from your origin to your destination directly. Connecting flights will include one of more stops along the way. Often, this makes flights cheaper, but also increase the travel time. When looking into flights, be sure to double check the entire travel time and compare this to the price of the flight (AKA: is the extra travel time worth the decrease in flight price?)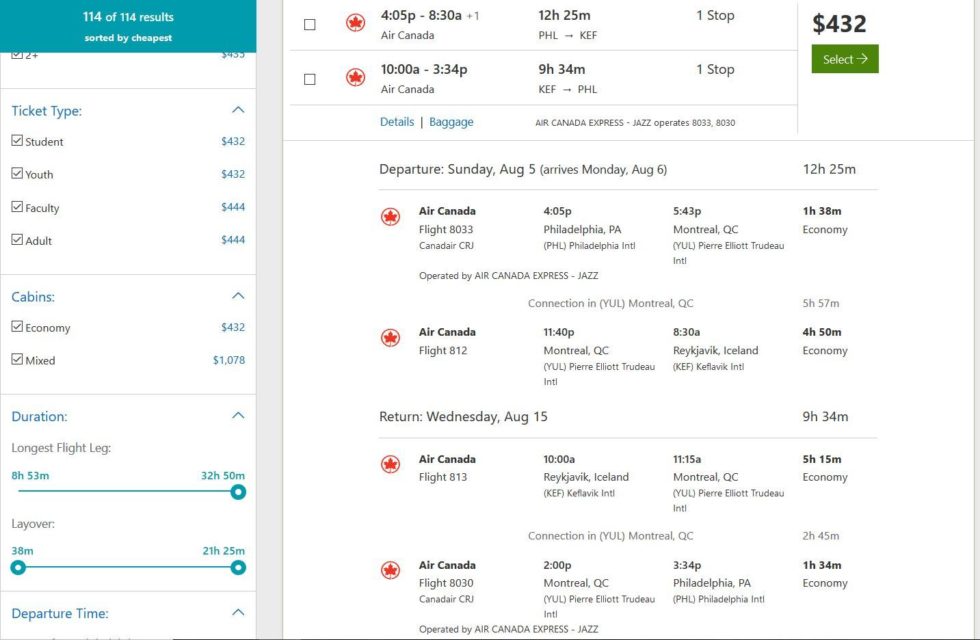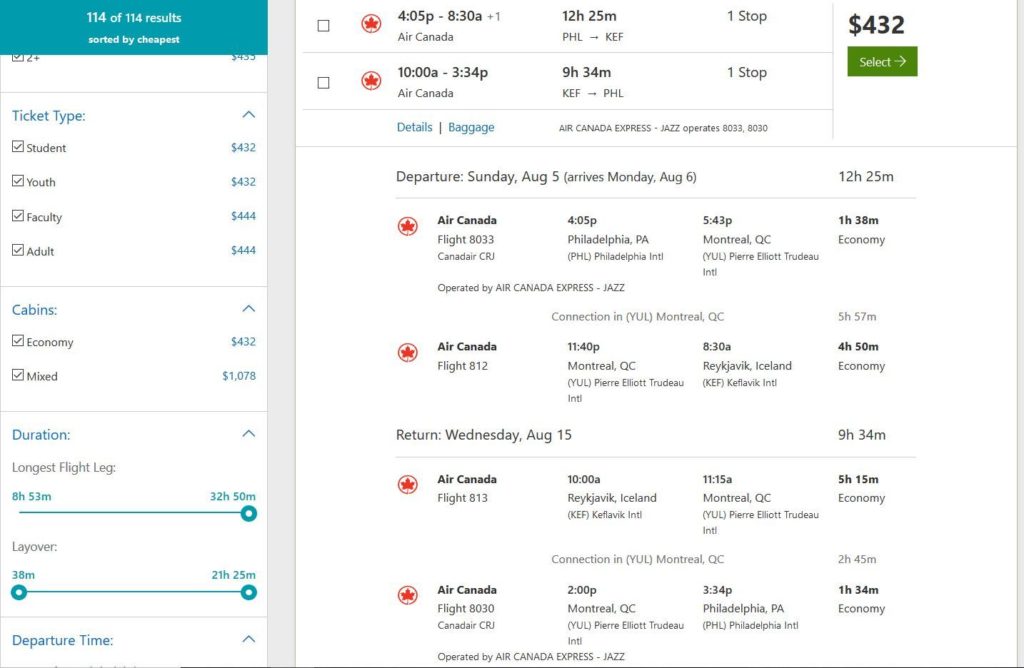 Let me take a look at some additional options at a nearby airport (in this case Newark): So I took a look at flights from Newark (EWR) to KEF on those same dates. StudentUniverse said I picked the cheapest days again!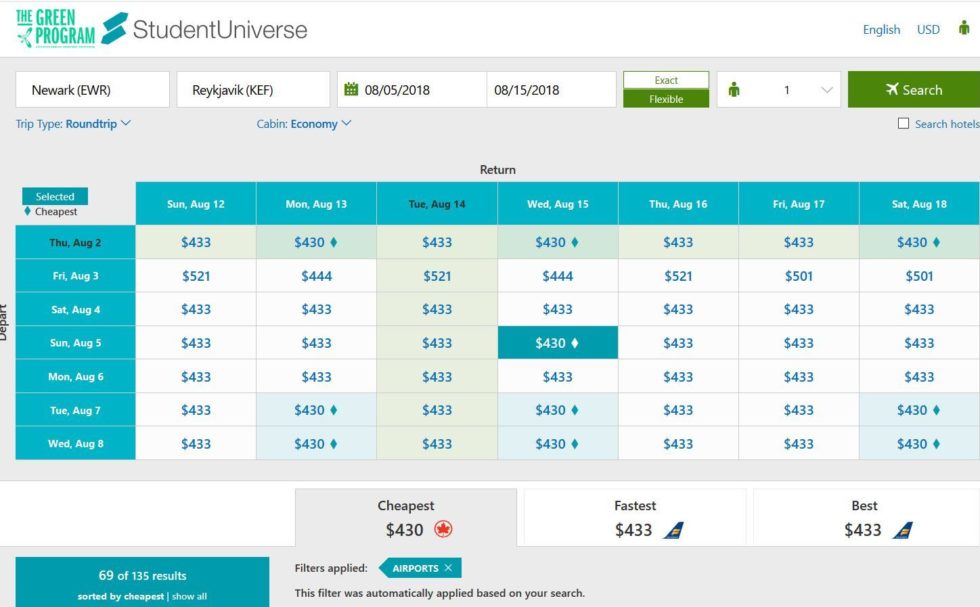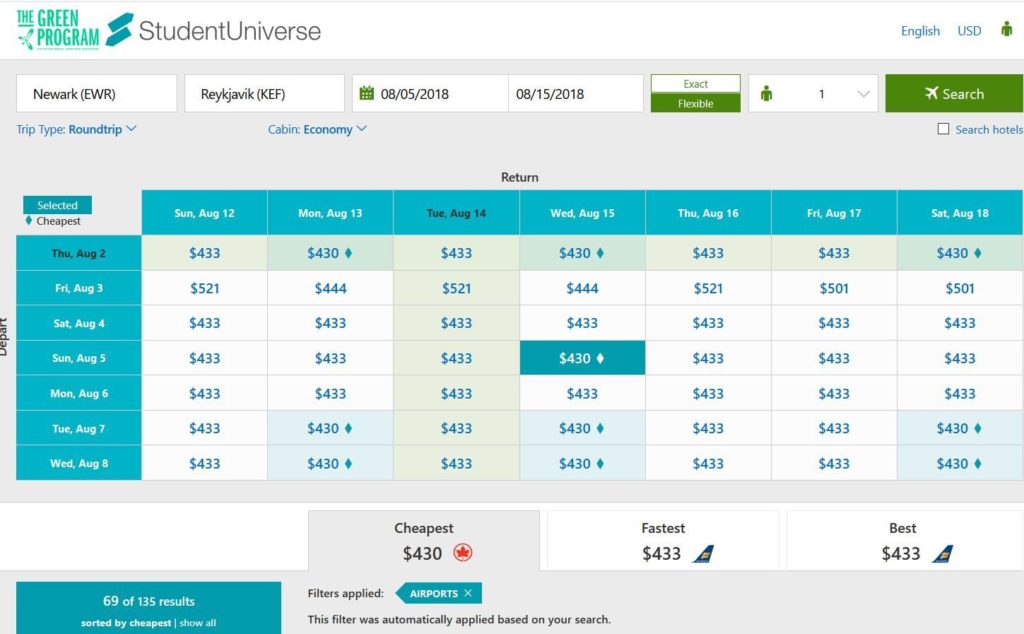 I took a look at the cheapest flight, but it had a layover in Canada, so I looked at the next cheapest flight and the price difference was $3. That flight has no layovers, arrives at 5:55 AM on the 6th, and departs at 5:00 PM on the 15th.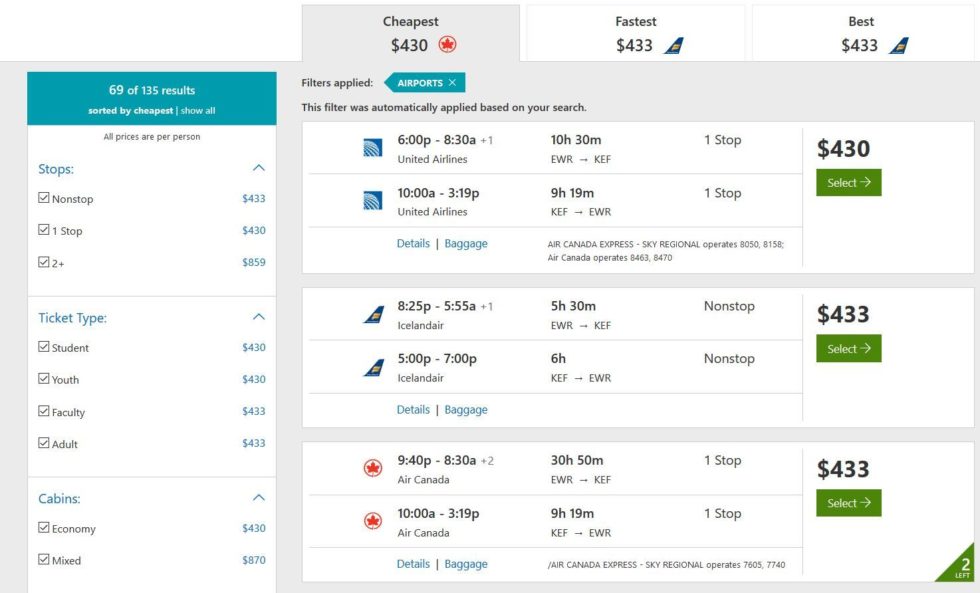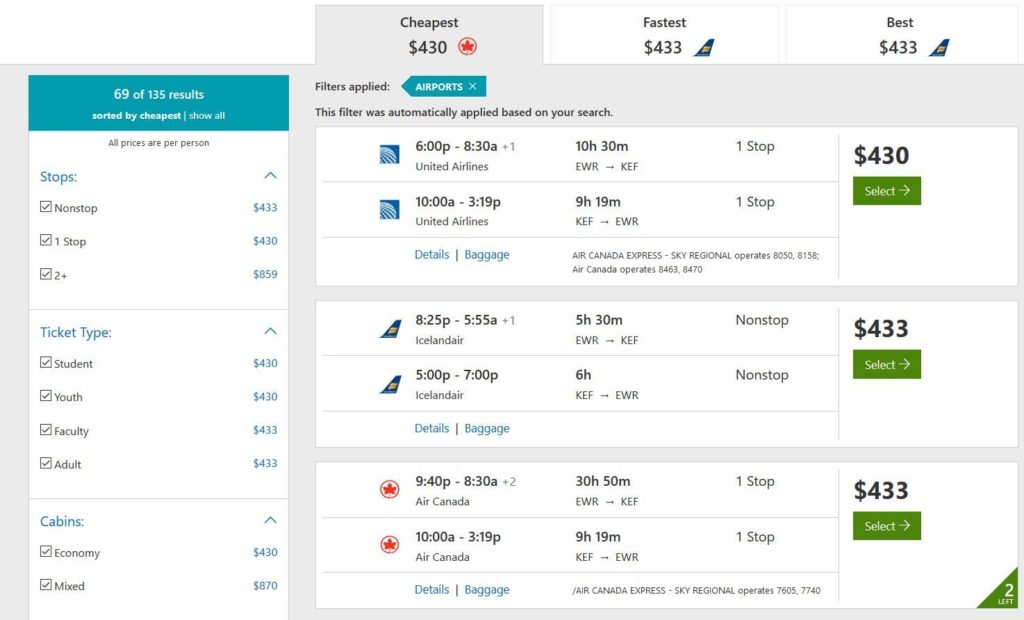 Explore flight search engines & additional resources
We always recommend that you take a look at a few of different flight search engines such as Google Flights, Hopper, SkyScanner, Hipmunk, Kayak, and more. By exploring all of your resources, you'll be aware of all of your options (airlines, pricing, airports) and you can make the best decision from here.

Let's try another search engine – Google Flights: using my search before (The August 6-15 program in Iceland from PHL/EWR), I found these itinerary options to compare: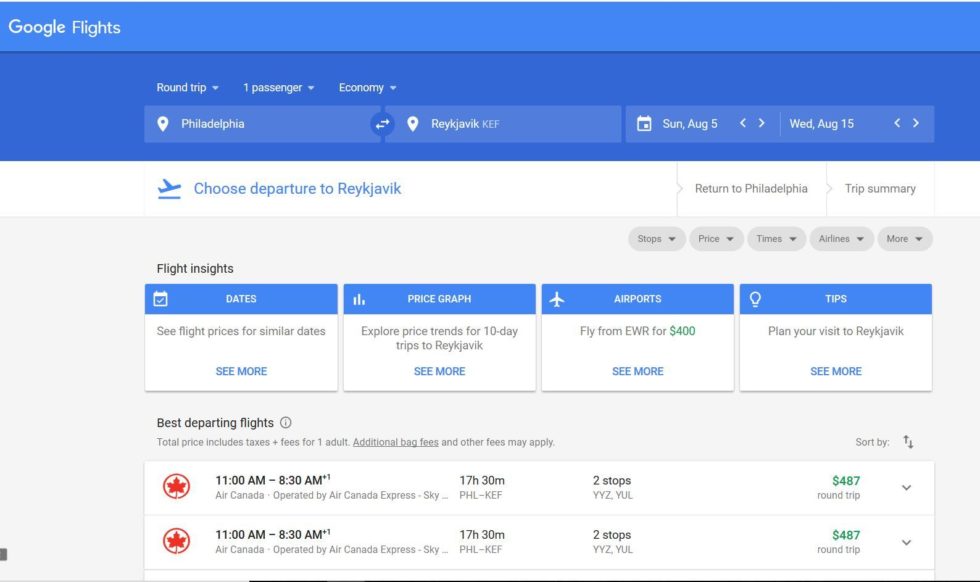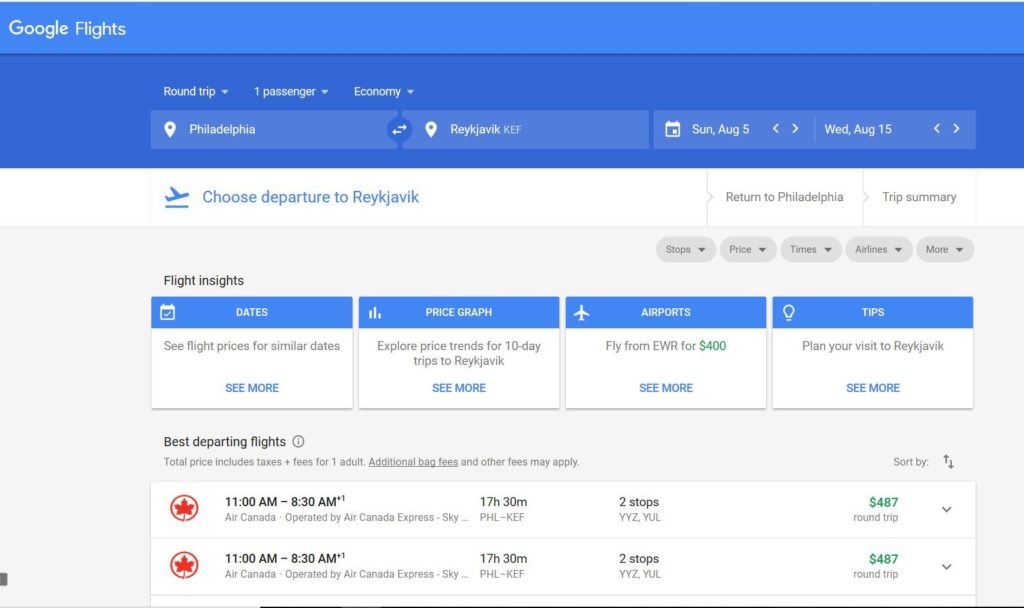 When using flight aggregator, it's important to note that you will be seeing options for a variety of airlines. When deciding between itinerary and airline, we always recommend double checking the amentities and what is included. Depending on the airline, sometimes there are additional expenses for bags/carry-ons or other amenities for budget airlines compared to standard airline.
We hope that these tips & tricks will help you with beginning your flight search . Good luck, safe travels, and we look forward to seeing you on your upcoming GREEN adventure!