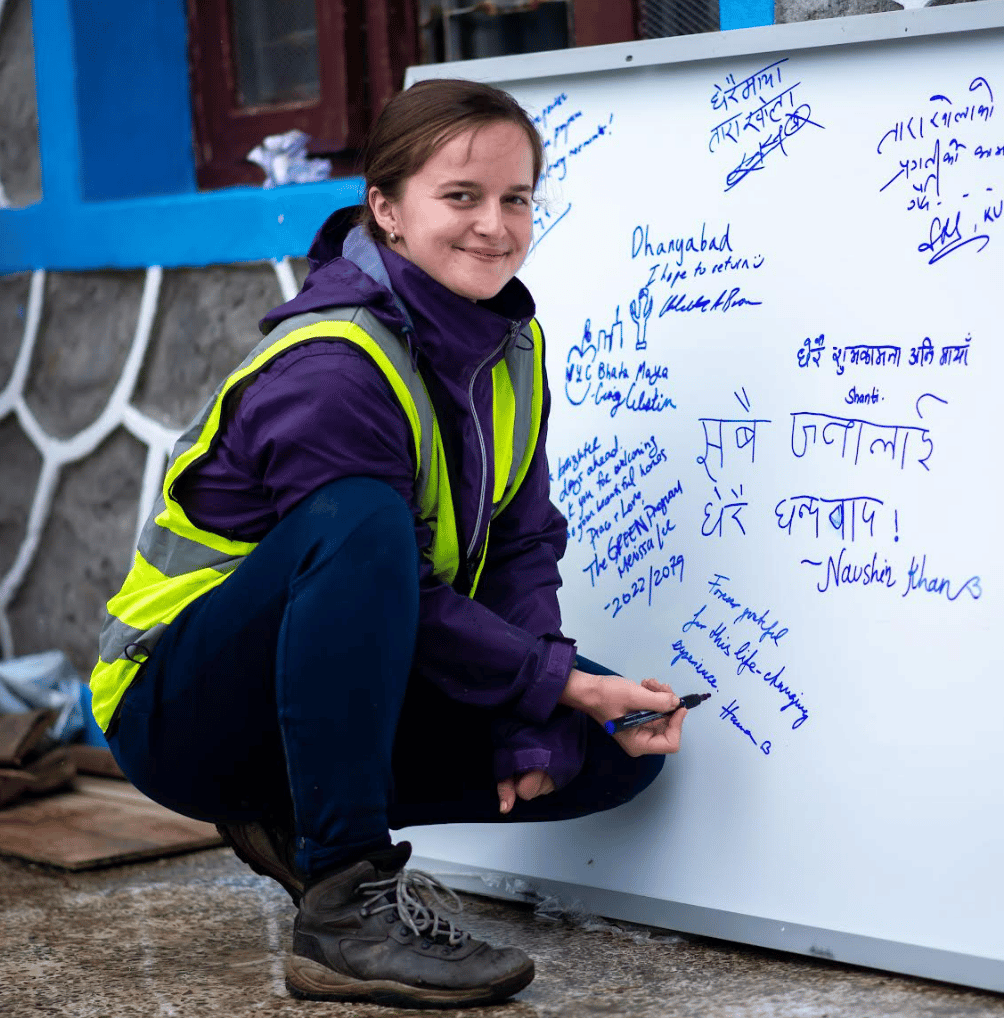 "Every student should be given a chance to study abroad at least once in their life, because it teaches us things that textbooks cannot."

I am starting my 5th year as a PhD candidate at Duke University in Civil & Environmental Engineering, and I got to know The Green Program through one of the university's energy-focused newsletters, where they specifically advertised the Nepal trek, focusing on microgrid systems and rural development. Since I have always been interested in renewable energy and my research focuses on solar panels, I could not resist clicking on the link. Hailing from Hungary, higher education in the United States was already an international experience, but I have always dreamt of studying abroad during my undergraduate years. While that opportunity never came, my graduate work allowed me to explore parts of the U.S. and understand the benefits solar energy brings to communities. However, I have always considered solar panels on the microscale, investigating the physicochemical processes between the panel surface and airborne particles that may settle and shade the surface in a process called soiling. I wanted to get outside the laboratory and understand the technology – being immersed in a new culture and seeing the direct impact of the microgrid was the cherry on top.
As an international graduate student, I was not eligible for any university-sponsorship, so I was excited to learn that this program had the generous Shine On scholarship. I never expected to be selected, but at least I now had a reason to try and apply. I have not heard from the program for a long time and since the start date was coming up fast, I concluded that I must have not been selected. It was quite a shock when I received the email with the good news, a mere three weeks prior to departure. At that time, I already had my flight booked to Hungary, which conflicted with the program dates, so at first, I was not even sure if I could attend. I remember calling my mother, telling her about the scholarship and feeling concerned about changing the plane tickets. I was also unsure if I could get everything ready in time and had to check with my advisor if he would allow me to take the time off on such short notice. But the obstacles seemed to dissolve within a day: my plane tickets could be modified, my advisor was excited about the opportunity, and there were available seats on flights to Nepal. I purchased one, and the dream became a realization. However, it took me a few more days to completely process the luck and privilege of being selected as a scholar.
"Living with the locals was the best way to get to know Nepal, its people, and traditions."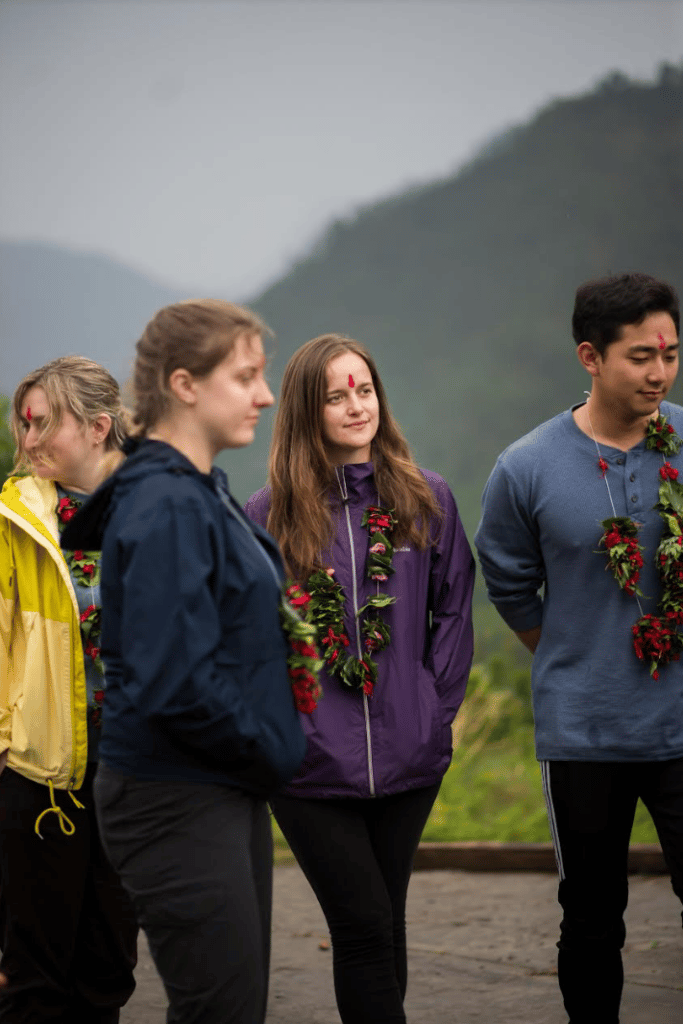 I do not think I had too much time to think about the trip beforehand, and I have also learnt that it is better to be a little unprepared and go on adventures with an open mind. My only expectations were building a microgrid, doing a capstone project and getting to know new people. The comfort of a pre-organized group travel was surprising, as I have always traveled on my own before. The hotels and restaurants were some of the nicest I have ever been to, and I definitely did not think I would gain weight on the trip – but I did, thanks to the infinite amount of delicious food. I have thoroughly enjoyed the mixture of cultural learning experiences, lectures, physical exercise, reflections and social interactions. I believe we have formed a great group, and every participant enjoyed their time – even the local partners. I also believe that being immersed in a new culture and living with the locals has been the best way to get to know Nepal, its people and traditions.

I have learned that Nepal is the country of organized chaos, embraced by mountains. The bigger cities are a blend of colorful crowds, where pedestrians and bikers flow in all directions on narrow streets, occasionally interrupted by a car. The continuous stream occasionally opens up to move around a dog napping peacefully in the middle of the road. I have learnt that if you need a minute of silence and calm, you can find a temple in almost any street. In fact, the importance of faith is just as evident in the countryside, where the mountains and rocks behold numerous religious sites. The villages are quiet, with a few decorated trucks or 4-wheelers passing and breaking the silence. The simple houses and terrace farms blend into rather than break the harmony of nature. And if you look up to the horizon, you may mistake the snow-covered peaks of the Himalayas for clouds. I have also learned that the humbleness and fragile appearance of an elderly Nepali woman hides more resilience and strength than the bodies of a dozen western students. And finally, that dal bhat is a superfood that keeps you energized and you cannot get bored of eating it every day.
On one hand, I believe that every student should be given a chance to study abroad at least once in their life, because it teaches us things that textbooks cannot: adaptability, resilience, curiosity, empathy, just to name a few. Whether good or bad, bursting our bubble and learning about our world will inspire us and open our minds. On the other hand, the people we interact with benefit from the diversity, because all of us bring unique perspectives to the table. Perhaps we share an idea that no one has thought of but could be key to solving a problem; we fuel the aspirations of someone who is facing similar difficulties; or help take down stereotypes.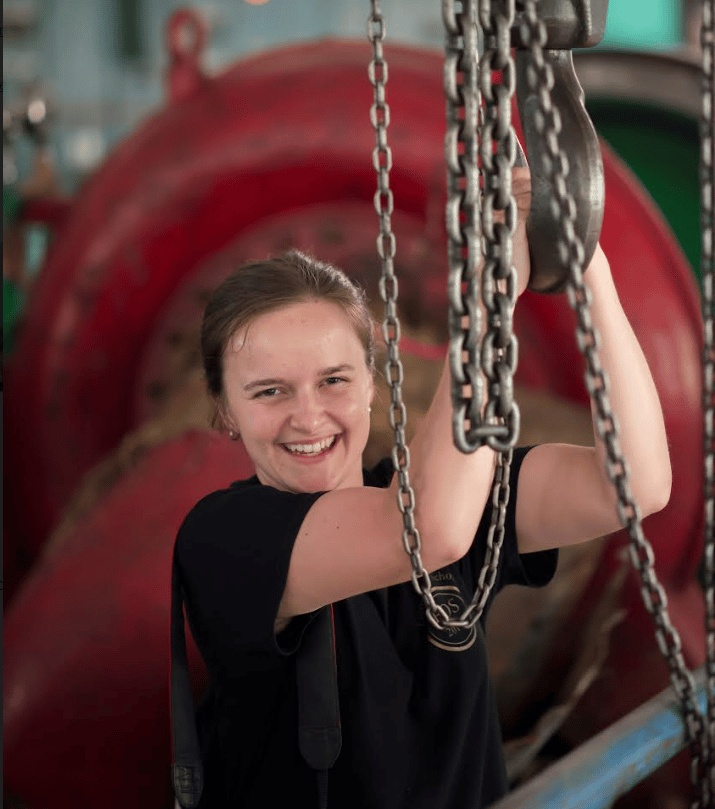 "Being immersed in a new culture and seeing the direct impact of the microgrid was the cherry on top."

I have enjoyed the solar panel installation process the most, especially because we have received so much insight on all the steps that go into setting up the microgrid. We all got to try out different tasks, and even though the monsoon prevented us from finishing the installation ourselves, we were definitely given full responsibility over the earlier steps. I do not have a background in electrical engineering, so it was particularly interesting to set-up the battery bank and wiring for the system. It was also enjoyable to work as a team, because working together allowed us to function better and help each other try new things and improve our skills.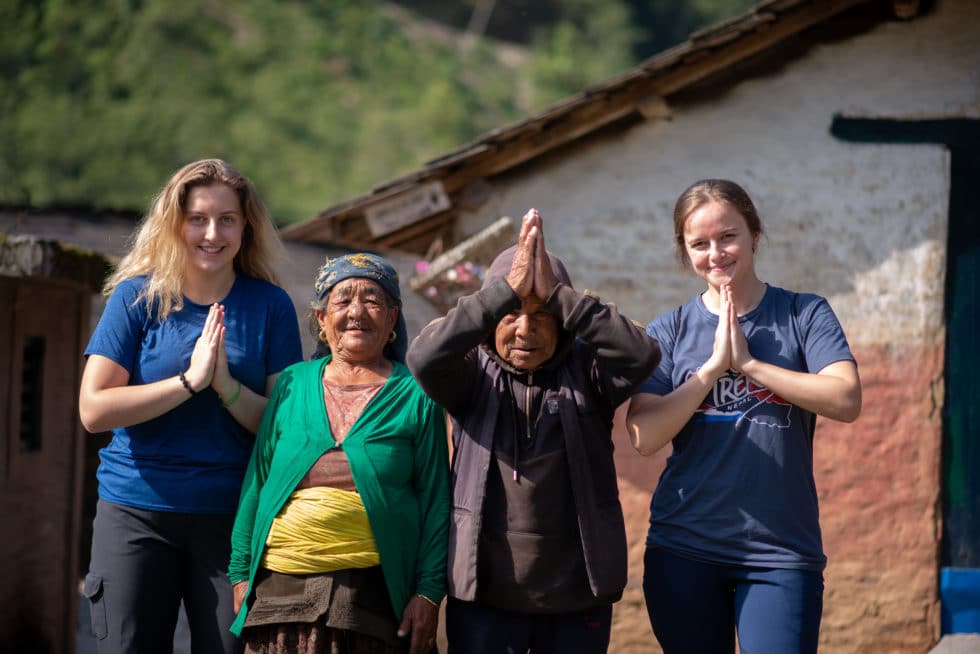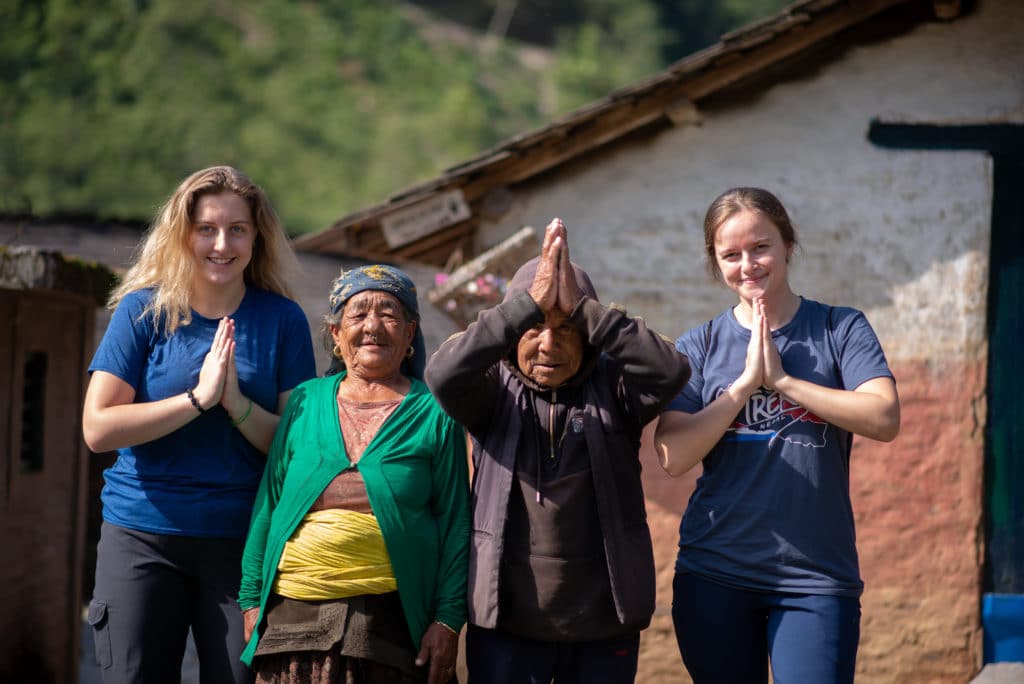 We had an abundance of ideas for our Capstone Project, but decided to talk to our Nepali partners to identify more pressing issues. Our project was inspired by the work done by GivePower, and we targeted Trans-Himalayan villages that currently lack electricity. These villages do not have a stable source of income and mainly rely on finding and selling yarsagumba, a fungi valued highly in traditional medicine, but very difficult to find. People in this region burn dung cakes for cooking and heating, since firewood is not available at high elevations. Burning the dung cakes indoors has significant health risks, and women are especially prone to this risk. Since there is an abundance of sunlight, solar microgrids in such villages would allow the use of an electric kettle for quickly boiling water (for example for tea) and an electric stove for cooking meals for a few hours a day. It can also equip each home with a few lightbulbs, which extends the hours of productivity for the locals. The dung cakes remaining from the transition to electric cooking methods could be turned into fertilizer, improving crop yields and allowing the villagers to sell surplus crops as a more stable source of income. The main challenge was definitely the lack of Wifi, as we were unable to look up much needed information until the evening before the project. Also, the time constraints limited our deliverables, but we were still able to plan out a solar system that could be installed on a residential home to power the basic equipment mentioned above. We have also looked into potentially funding the projects through treks, where students or tourists could immerse themselves in Nepali culture in exchange for installing the systems and paying a portion of the installation cost.
I am immensely grateful to the Slattery family for gifting me this life-changing experience through the Shine On scholarship.
Hanna's advice for new GREENies:
If you cannot afford to spend an entire semester abroad, it is good to be on the lookout for shorter programs such as The Green Program offerings, especially since those tend to be during school breaks. I think for a lot of students, especially undergraduates, the universities often have specific funds allocated for similar study-abroad experiences. If the amount of resources and information is overwhelming, I would start by talking to the office in charge of study abroad programs directly and asking about potential funding opportunities. It is always worth asking around and applying to even outside scholarships, because if you do not try, you will never succeed.
The enrollment process was simple and fast, and I received immense help from Andrea. Because I am a seasoned traveler, I was not too worried about the logistics of international travel, but I was concerned about only having three weeks to obtain all the necessary documents, flight tickets, insurance and so on. In reality, I think I was able to get everything together in one week, and I could spend the remaining time preparing for the educational experience itself – reading about the capstone projects and the preparatory materials on solar energy. I think the information provided to us via the website and the virtual pre-trip meeting was clear and sufficient, so I knew exactly what to expect.