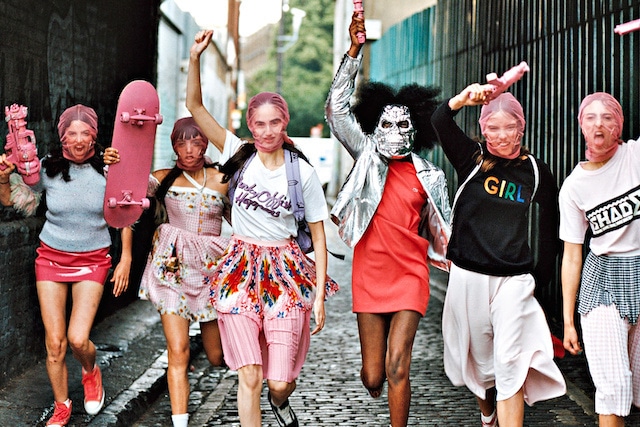 Women-owned businesses are on the rise and we're just getting started.
In the US, a Woman-Owned Business Enterprise (WBE) is defined as a business that is at least 51% owned, operated, and controlled on a daily basis by one or more (in combination) female American citizens. Women-owned companies currently represent 11.6 million firms (5.4 million of these are majority-owned by women of color in the United States), employ nearly 9 million people, and generate $1.7 trillion in sales annually.

That sounds pretty good, right?
Anything making trillions of dollars usually gives us the idea that it's good enough.

Plot twist: it's not.

It's 2018 and there are still only 26 women (4.8%) in CEO roles in Fortune 500 companies according to a report by Pew Research. On top of that, only 4% of all women-owned firms reach the $1 million in revenue mark and are still overcoming the hurdles of moving up the ranks as company leaders and facing challenges that many of their male CEO counterparts do not encounter.
Historically, women and certain minorities have experienced a wealth gap affected largely by limited entrepreneurship and opportunities. With that said, times are changing and the wealth gap is closing (slowly, but surely). Since 1996, women in the United States have surpassed men in the number of bachelor's degrees received, and in master's degrees received since 2010. Entrepreneurship is a proven method to provide women and minorities with higher salaries and net worth in an effort to close that gap. In addition, we know that supporting women-owned businesses helps shift decision-making and ultimately provides different options of what leadership could look like for this and future generations.
While the gap is closing, there's always more that we can do.

The bottom line is that there is a lot more we can do to help support women-owned businesses. We can also expect to see a lot more coming from these companies, too. So while these women are shattering glass ceilings, we want to celebrate those who are also making an impact and support their work. What's a better time than now?

October is "Women's Small Business Month," and 99.9% of all women-owned businesses fit this category (less than 500 employees). "National Women's Small Business Month is a time to recognize and applaud the talented, dedicated and driven women whose entrepreneurial spirit helps drive our nation's economy forward," says Carla Harris, Chair of the National Women's Business Council.
We've searched the globe and selected seven outstanding women-owned companies and their revolutionary initiatives that are changing our world for the better. Join The GREEN Program in celebrating their impact and supporting their missions.

We received many submissions of inspiring women-led initiatives out there. You're all amazing, actually. Here's to all of our fellow women-owned businesses creating positive change. You rock!

1. Marley's Monsters
---
The one-stop shop for eco-friendly, reusable products and unique baby goods
WHAT WE LOVE: Sarah is Marley's mom and her story is pretty incredible. While on maternity leave from her career as an interior designer and being a true creative at heart, Sarah taught herself how to use an old sewing machine that she dug up in her house. Soon after, she started making a stuffed monster for her soon-to-arrive baby girl. After some practice (read: dedication to the process and lots of trial and error), she created Marley's first monster… and kept going. She quickly realized that she could make everything that Marley needed. We absolutely love that she listens to the recommendations and feedback from her customers to continue improving every product – a huge part of why they are so successful today.

Parents can find everything they need from home and kitchen, facial and body care, breastfeeding supplies, baby essentials, and even VIP and vintage line. Oh, and you can customize them too! It doesn't get much better than that. Just kidding, it totally does. Marley's Monsters understands that having children in a world full of disposables can be a challenge so their eco-friendly production prioritizes the reduction of waste and our environment.
LEARN MORE: You too can be a cool, conscious parent! Step up your eco-friendly goodies game and support Marley's Monsters here. Not a parent but know someone who is? This is a great gift idea too.


2. Empower Generation
---
Empowering women to power communities with clean energy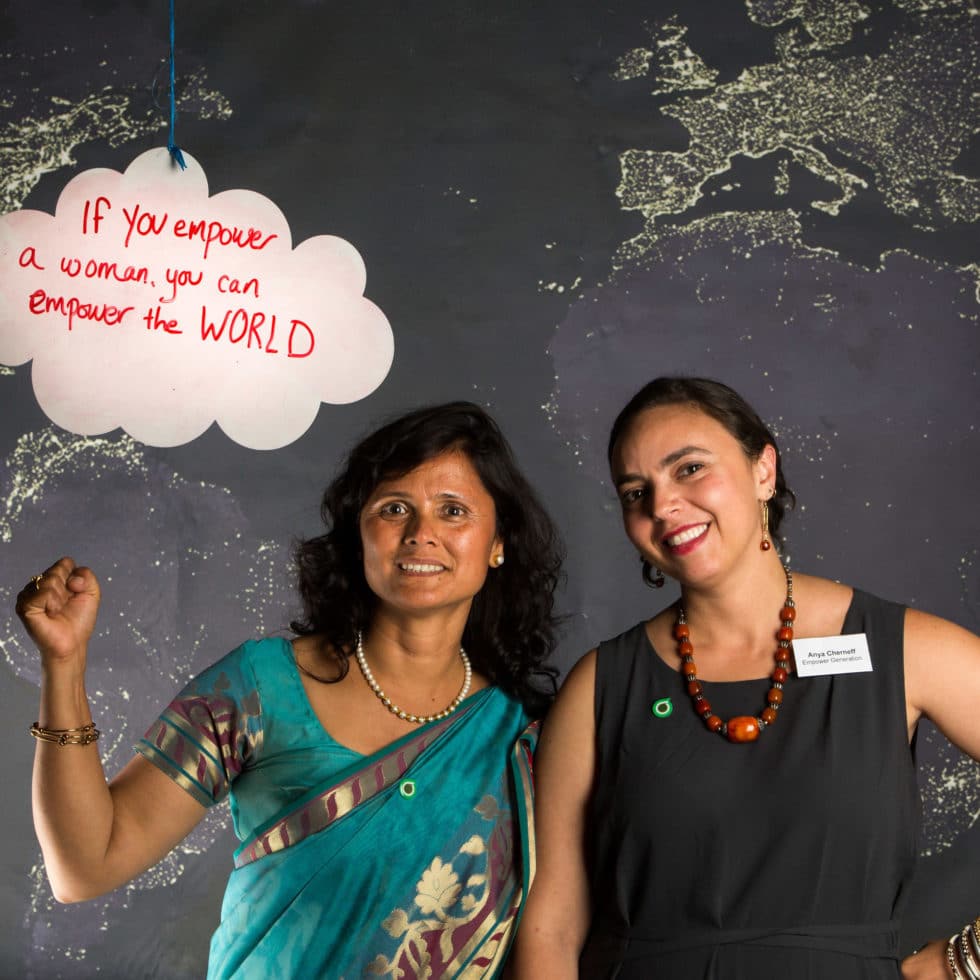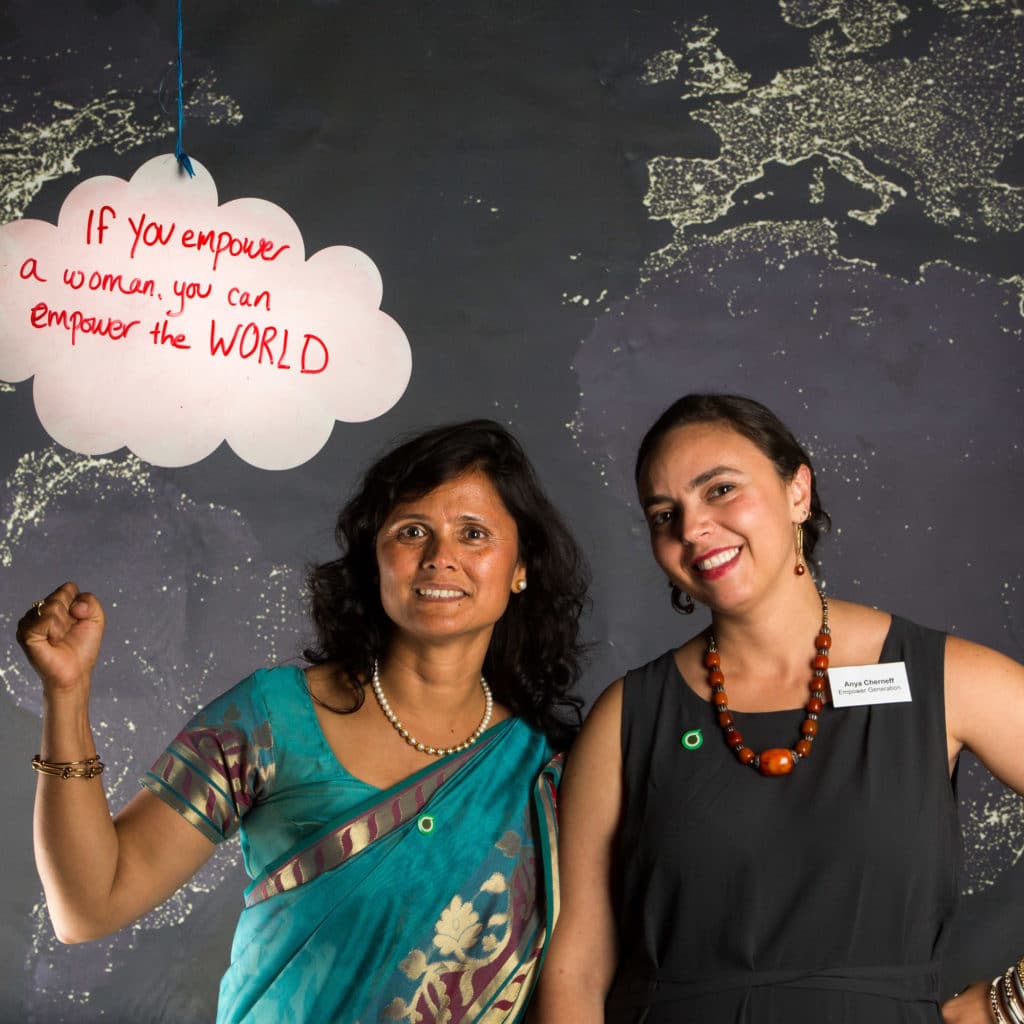 WHAT WE LOVE: Women creating businesses that create more opportunities for more women. Co-Founders, Anya Cherneff (pictured left) and Sita Adhikari (pictured right) are doing just that. When they both met in Nepal in 2011, they identified a tremendous opportunity to create a gender energy paradigm shift.

How? By empowering and employing women to become clean energy entrepreneurs. Pretty rad, right?
HOW IT WORKS: Empower Generation (EG) provides low-interest loans, business skills training, mentorship and access to a supply chain of clean energy products like solar lights and cookstoves to rural women in Nepal to start their own distribution franchise (Source: Impakter). In the past 7 years, EG has helped 23 women start 20 businesses, deploying 300 sales agents across 12 districts in Nepal. So far, this women-led business has sold 60,000 clean energy products and gave nearly 300,000 people access to cleaner and safer light and power. If that isn't amazing enough, they have also helped families save $2,145,617 USD in household energy expenses and displaced nearly 13,000 tons of CO2. What if every rural city deployed businesses like this? This is the future of business, folks.
LEARN MORE: Because there are incredible stories of inspiration and impact tied to what these women have created through their business, head to this Impakter article and their website to take a deeper dive. Feeling generous? You can donate to help the mission.


3. Package Free Shop & Trash is for Tosser
---
A convenient and simple alternative to single-use plastic products & the experiment that ended up with five years of trash inside a 16 oz. mason jar.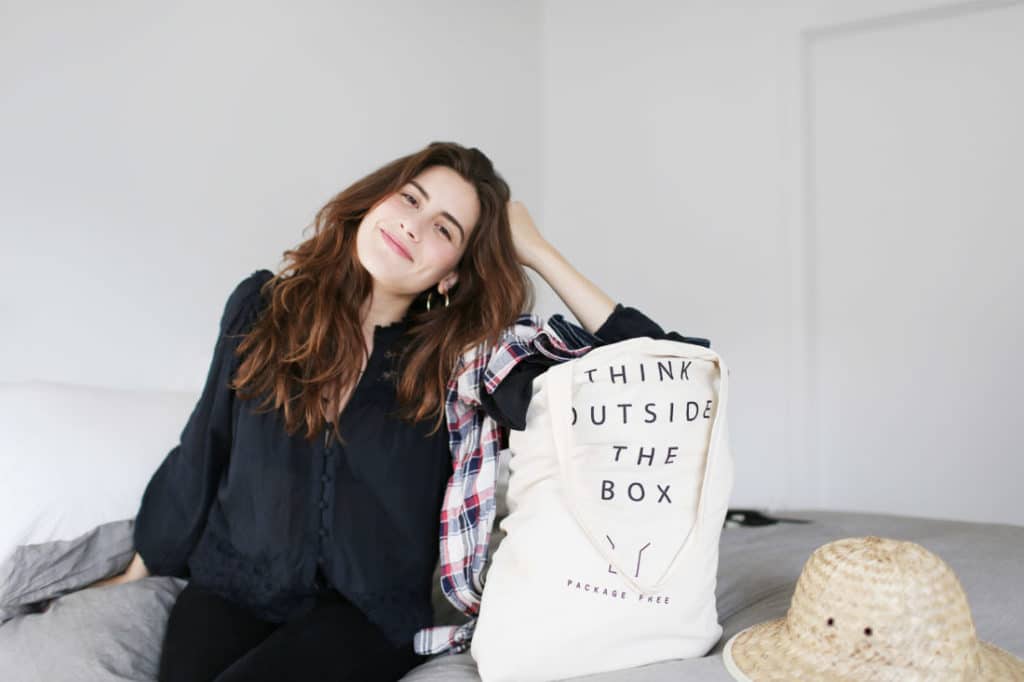 WHAT WE LOVE: I first learned about Lauren Singer and her zero-waste initiatives through an article that we were both featured in by The North Face and Bustle. Instantly, I was hooked and immediately started following her journey. And yes, you read that right. Singer popularized the zero-waste movement through her blog, Trash is for Tossers, when she documented her journey and was able to fit FIVE YEARS of the trash inside a 16 oz mason jar.

How long could you go before you fill a jar with trash? Let's just say, most of us would need a really big jar.

Singer shares her zero-waste journey and proves that the lifestyle is simple, cost-effective, fun, and totally possible for everyone. She says that if she can do it, anyone can! And yep, you guessed it – that's not all. She also founded the Package Free Shop to help others follow in her footsteps.
WHAT IT IS: Package Free Shop is a convenient way to find alternatives to single-use plastic products. If we actually want to have any part in improving the state of our environment, oceans, wildlife, and public health, this is a great place to start. They source their products from individuals and brands with missions to create positive environmental impacts. Since their launch, they've kept about 4 million plastic straws, 3 million plastic bags, and 1 million non-recyclable bottles and cups out of landfills. They're not cutting any corners either. They take their packaging seriously and help brands take steps to reduce their waste through their strict packaging policies.
LEARN MORE: Follow Singer's zero-waste journey and learn how you can cut down on your personal waste too on blog, Trash is for Tossers. After that, go buy products some goodies that will help you on this journey at Package Free Shop.
4. Joênia Wapixana
---
Brazil's first female indigenous Congresswoman who's fighting against mining projects to protect indigenous lands and families in the Amazon region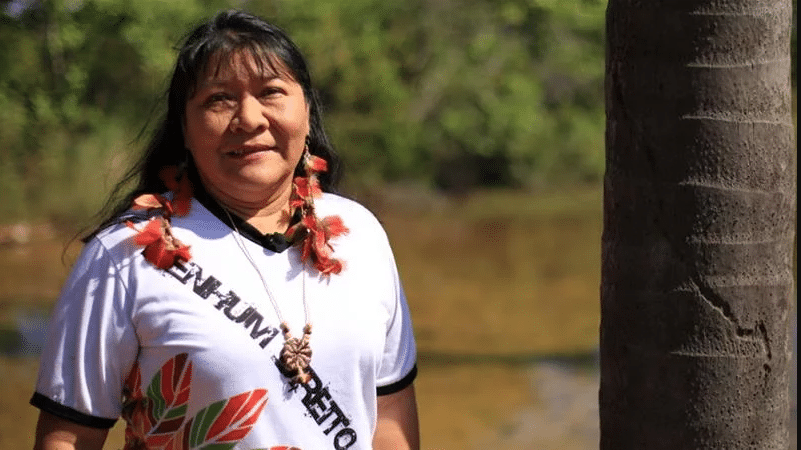 WHAT WE LOVE: What's not to love here? Joênia Wapixana made history when she became the first female indigenous Congresswoman in Brazil's history, but we're more excited about what she's about to do. Waxipana isn't messing around. She is also the first indigenous lawyer to argue before the Supreme Court of Brazil after taking a land dispute to the Inter-American Commission on Human Rights. Not to mention, she's currently the President of the National Commission for the Defense of the Rights of Indigenous Peoples. She's committed to sustainability through and through; she was elected as Federal Deputy for Sustainability Network ("Rede Sustentabilidade") (REDE), a Brazilian political party founded in 2013. BBC News recently wrote a story about a school for politicians called RenovaBR that Wapixana participated in as well. She said the program gave her new tools in her fight against mining projects and equipped her to know about all the anti-indigenous bills that are currently in place, and what she will be working against.
LEARN MORE: Find more about Wapixana's story and initiatives here.


5. Sad Girls Club
---
A community that's breaking the stigma of mental health & igniting conversations with GenZ & millennials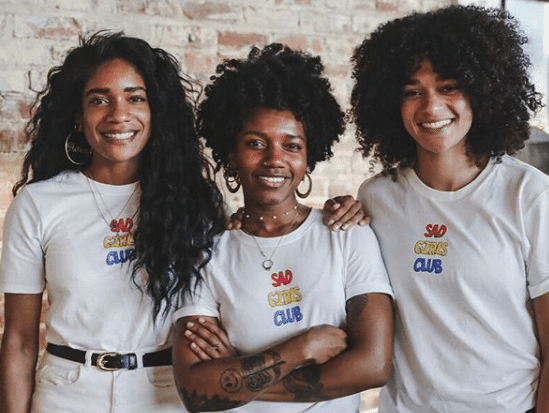 eWHAT WE LOVE: I first met Elyse Fox (pictured left) at the 2017 Bustle Upstart Awards and immediately connected with her, and the importance behind her work and mission. She created Sad Girls Club, an online group for young women who are dealing with mental health issues. And it's taken off. This WOC-driven organization sets itself apart from anything else out there by also hosting in-person meetups in NYC. In a personal interview with SELF Magazine, Elyse makes a strong point when asked about what's missing in the way we talk about mental illness today:

"We just don't have representation where girls can look on TV or online and see someone who looks like them, or is a woman of color who's saying, 'I have a mental illness and I'm happy; I'm living my life and this is how I do it.' I think we're missing that physical representation."
We couldn't agree more.
WHY YOU SHOULD LOVE IT TOO: Elyse's personal story of dealing with depression and creating a community for others through Sad Girls Club has caught the attention of brands such as Nike, Olay, and Asos, and Calvin Klein. If we haven't said enough about why we love Sad Girls Club and Elyse, it's because this community is doing an incredible job of pushing the status quo and opening up the conversations about mental health and helping to rid stigmas.

With an overall increase in mental health conditions since 2000 across the country, we view mental health as a priority and something everyone should learn more about. Our team also participated in the United Nation's General Assembly meeting on mental health in the SDGs era. It turns out that Sad Girls Club isn't alone in this endeavor. Certain European nations are taking the lead with mental health as a priority to achieve a sustainable future. Without it, our world would not be able to reach the SDGs or tackle any of our world's pressing issues. We need to focus on bettering ourselves first before we can help the world around us.
LEARN MORE: Follow Sad Girls Club's online community on Instagram! Support their mission to end the stigma of mental health and make a donation here.
6. Student-Run Emergency Housing Unit of Philadelphia (SREHUP)
---
The first homeless shelter for people AND their pets in Philadelphia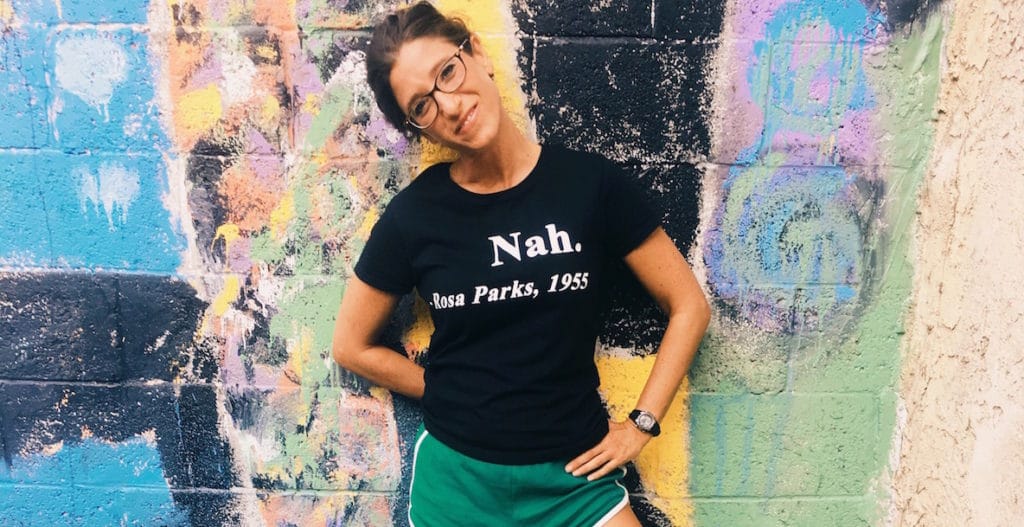 WHAT WE LOVE: According to ProjectHome, on any given night in January 2017, there were 553,742 people experiencing homelessness in the United States; 65% were sheltered individuals and 35% were unsheltered individuals. Focusing on the 35%, Stephanie Sena is a professor from Villanova University who caught our attention. In 2011, Sena encouraged and supported a group of students to start the Student-Run Emergency Housing Unit of Philadelphia (SREHUP). With Sena's leadership, SREHUP was able to create three successfully operated homeless shelters in Philadelphia. Their shelters also provide more than just the "band-aid" solution by providing access to social workers and job opportunities to help the homeless population get back up on their feet.

Over the years, Sena realized that SREHUP had to turn away too many people from their shelters because they were join with pets. It turns out that all of the other shelters in Philadelphia do not allow pets unless they are service animals. Anyone reading this with a pet knows that chosing to leave their companion behind would be a wildly difficult decision to make. If you've heard of Sena and SREHUP, it's probably because you've been paying attention. Their work has been in the media lately because of this innovative new homeless shelter that they're starting.

SREHUP is opening the city's first shelter for people and their pets, which welcomes all pets and all breeds (something a lot of apartments don't even allow tenants to do). To make this possible, they've partnered with local pet shelters, which are providing crates, dog supplies, dog food, veterinarian care, and dog groomers and walkers for their shelter. Their goal? To create a shelter that will be innovative, revolutionary, and life-saving. We love what SREHUP is doing to help tackle poverty and homelessness in our city.
LEARN MORE: Check out this great article by The Philadelphia Citizen about Stephanie and SREHUP's work. Follow their journey on their FB page, and most importantly, consider donating to their GoFundMe page to help them reach their goal! 
7. Japanese Women's Leadership Initiative (JWLI)
---
An executive leadership program that coaches Japanese women to become leaders in positive social change and innovation in Japan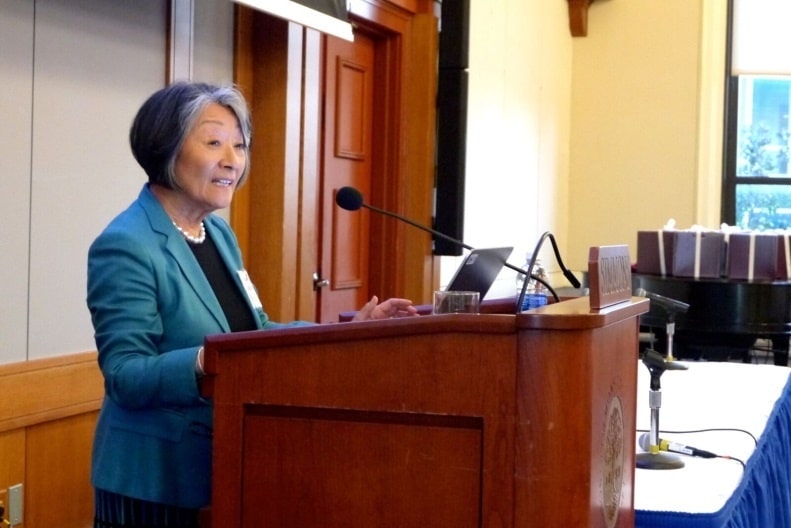 WHAT WE LOVE: In a time where the world is slowly (like molasses, but we're working on it) shifting towards gender equality, Japan still has a lot of catching up to do. According to the Gender Inequality Index (GII), Japan ranks as the 4th lowest in gender equality out of the 51 most developed countries.

One of the components of the GII is empowerment and that's what the Japanese Leadership Initiative (JWLI) is targeting.

Atsuko Toko Fish founded JWLI in 2016. Along with her team, Fish developed an effective executive leadership program that brought women from Japan to Boston to coach Japanese women how to become leaders of positive social change and innovation in Japan. The 4-week program delivers hands-on experience and training with successful nonprofit organizations in nonprofit management and leadership development. In recognition of her achievements to promote U.S.-Japan friendship, the Ministry of Foreign Affairs of Japan awarded Fish with the Foreign Minister's Commendation in 2012. In 2013, the White House named Fish a recipient of the Asian American Pacific Islander Women "Champion of Change" award in recognition of her accomplishments for empowering women in both the U.S. and Japan. What's not to love here?
WHAT IT LOOKS LIKE: During their stay in Boston, the Fellows develop an Action Plan, that serves as a step-by-step roadmap to make their dreams of social change a reality. After returning to Japan, the Fellows are then expected to bring their Action Plans to life in their home communities. The purpose of this program is for the Fellows to share the knowledge and experience they acquired in Boston with other women and social sector leaders within Japan. While programs like JWLI shifting the future of global gender inequality, they are also changing the narratives that women can play in the future of management and leadership. And that future is near.
LEARN MORE: Visit JWLI's website to learn more, see their latest impact reports, and connect with this Boston-based organization.
__________________

The GREEN Program (TGP) is proud to be a woman and minority-owned business. We invest more than $1,000,000 USD in our program destinations' local economies every year. Our educational programs employ and support local and women-owned businesses through our accommodations, meals, academics, and excursions. We are thrilled to be listed among incredible women-owned businesses in the 2018 Stevie Awards for Women in Business – Company of the Year Award, The Philadelphia Business Journal's Women of Distinction Award, and Walker's Legacy Power 15 Award.
Thank you for your support!
Text by: Melissa Lee, Founder & CEO of The GREEN Program. Connect with her here.